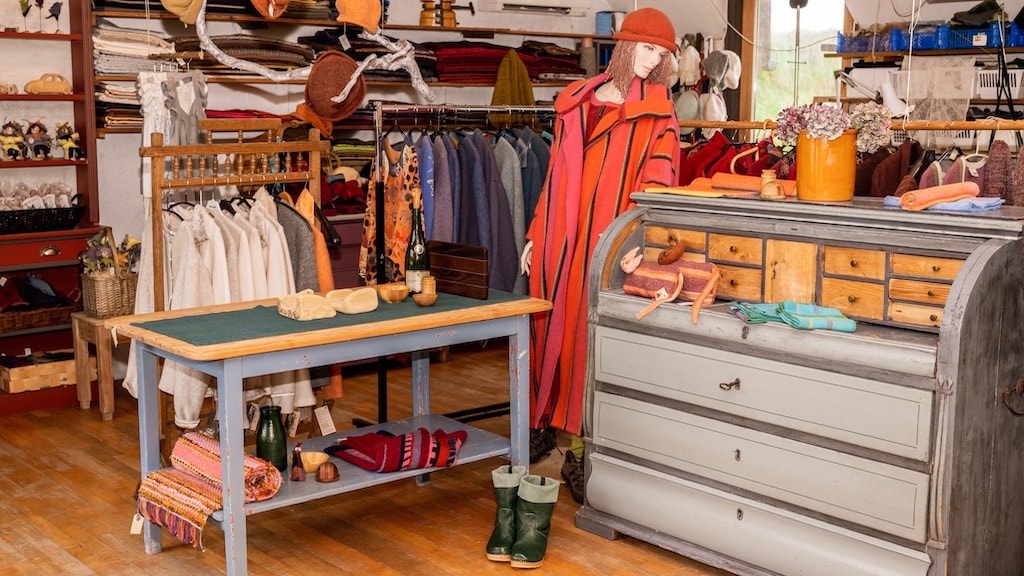 Aagaard Tekstil
Visit the idyllic craft farm Aagaard in Sydthy. Rediscover the ancient crafts, see and buy wool yarn from sheep in Thy National Park.
Aagaard is a craft farm and has a shop with yarn, textiles and local design. Aagaard conveys the ancestral craft and organises courses and workshops. In the summer of 2020, Aagaard will host a series of events under the theme 'Wool! Wool! Wool!'.
History
Aagaard is a 220 year old and rare, preserved old farm, restored with respect for old building style and local customs. Around the buildings there are beautiful green outdoor areas, a lovely old garden, big old trees and a small river. Aagaard has for many years been family owned by Else Høgh and her daughters. Now young "Thyboer" have joined forces and are continuing Aagaard into a mecca for anyone who wants to immerse themselves in crafts and be creatively challenged.
Activities
'Yoga in Wool'
On July 4, August 22 and September 12, you can attend outdoor 'Yoga in Wool' in Aagaard's beautiful grasslands. 'Yoga in wool' means you can wear woolen clothes, socks and possibly your own lamb or sheepskin, to practice yoga. Bring your own mat and a blanket and feel the wool's qualities on your body during the wonderful yoga practice. A jug of tea for post-yoga is also a good idea! Everyone is welcome to join. Sign up through Aagaard's Facebook page. If it rains, the yoga sessions is moved under the roof of the carriage door, and if it is cold, a heat cannon is installed in the old horse stable.
Opening hoursThe shop is open on Thursdays and Tuesdays from 2 pm to 5 pm.Aagaard is open the following weekends: July 4 and 5, August 22 and 23, as well as September 12-13, from 10am to 4pm. It is possible to buy beer, water, sausages, ice cream and coffee on weekends.