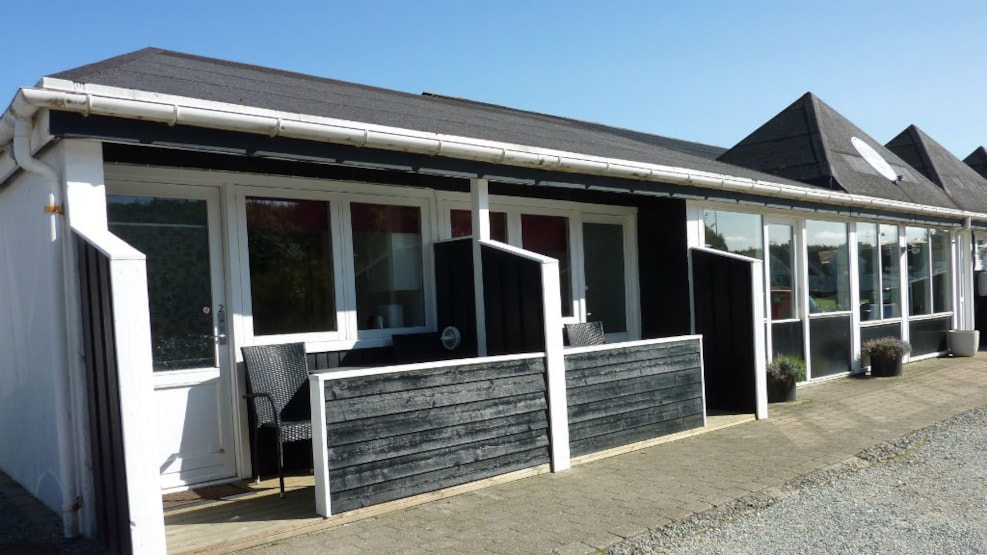 Egelunds Camping and Motel
At Egelund Camping it is possible to rent nice, new motel rooms with access to the terrace.
CAMPING

Egelunds Camping is an attractive modern three star family camping ground with a friendly atmosphere.
The surrounding areas are nice and green, and the site is attractively situated close to the sea and the fishing hamlet of Lønstrup.

All sites have 10 amp power outlets. Caravans with a solid floor under the awning can be rented.
The ground is equipped with a five-star welfare and sanitary building which was built in 2008. There is a family bathroom, a children's room with changing table, car bathtub and children's toilet. All rooms have comfortable floor heating. Access to wireless internet can be rented on site and there is a convenience store/grocery shop, a coin laundry, a hairdresser, a gallery and a cosy restaurant with both á la carte meals and a famous buffet. Takeaway food to be enjoyed in the cabin, caravan or tent is also available.

There are abundant opportunities for activities for the youngest campers at Egelunds Camping. They can frolic in the heated swimming pool with water slide, and there is also a children's swimming pool.

There is a big new playground with everything the heart could desire, such as a hopping pillow, see-saws, merry-go-rounds, a climbing frame, a sandbox and a play house. There are also moon cars, dinocars and two- and three-wheeled cycles for free use.

Finally, there is the beautiful beach with blue flag, a mere 800 metres from the camping ground.
CABINS

Ten pleasant log cabins, category 4, suitable for 4 (5) persons. The cabins have two bedrooms, kitchen/living room with double gas jets, refrigerator, coffee machine, hot and cold water, and TV.
Four big luxury cabins, category 5A, suitable for six persons. These cabins have two bedrooms, living room, kitchen with refrigerator/freezer, coffee machine, cooker with oven and TV. There is also a bathroom with shower, toilet and washbasin. Four big new luxury cabins, category 5A – allergy-friendly, built in 2008, equipped as described above. The cabins are equipped with cutlery, crockery, pots and pans. There are also quilts and pillows and spring mattresses. The cabins also have covered terraces with outdoor furniture. All cabins are electrically heated. Motel rooms – open all year!
Comfortable new double and family rooms, all with own bath and toilet. The rooms are equipped with refrigerator/freezer, coffee machine, electric heating and colour TV. All rooms have access to the terrace.
Pets are not permitted in the rooms. Bring your own bed linen or hire it from us.

SURROUNDINGS

By car or bus you can reach all sights and attractions of Northern Jutland within one hour. Golf and tennis courses, swimming bath/aqua park, museums and walking trails are all within a short distance. In Lønstrup you will find the church Mårup Kirke, which is close to falling down into the sea. At the 90 m high sand dune of Rubjerg Knude you will see the sanded up Lighthouse.
The 15 km long Lønstrup Klit (dune) is Denmark's best stretch for paragliding.
Within a few km you will find some of the major attractions of this region like eagle sanctuary Ørnereservatet, Nordsøen Oceanarium, Faarup Sommerland, Tivoliland Aalborg and the town of Skagen with Grenen, the harbour and the famous art museums.