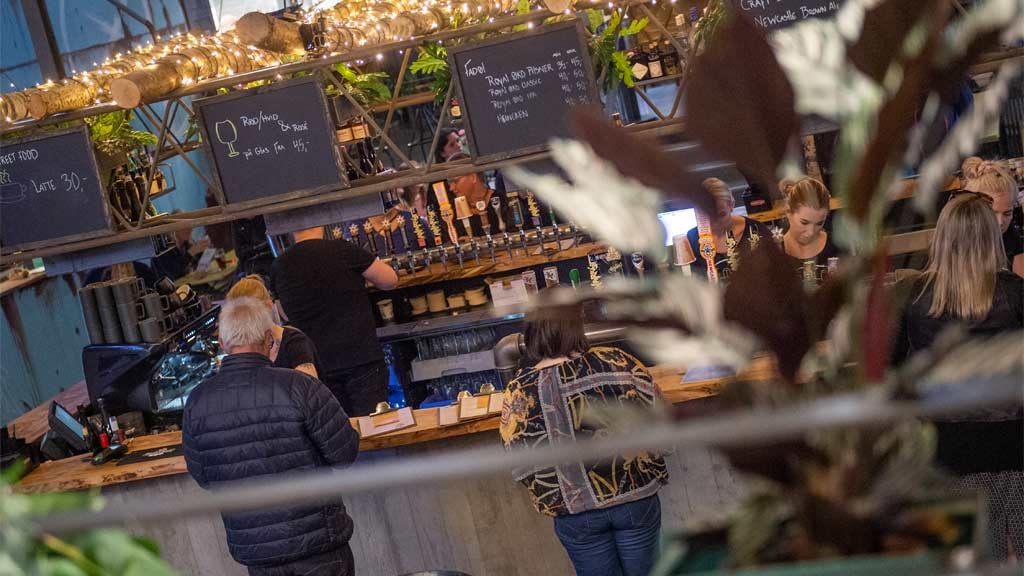 Esbjerg Street Food
Discover Esbjerg Street Food's seven creative food kitchens, which are run by people with passion about cooking and create a unique taste experience for the visiting guests.
Esbjerg Street Food also has three bars with a total of 57 beer taps serving different kinds of craft beer, as well as cold drinks, sodas, coffee and more.
The seven kitchens consist of
- Burger Anarchy
- Butcher's Pita Bar
- Marrakech (Moroccan cuisine)
- Bluesette Pancakes
- 400 Grader (Italian cuisine)
- Tandoori Palace (Indian Cuisine)
- Tapas And More
If you are considering going out to eat in Esbjerg, then there is plenty of opportunity to meet up and sit down in the large food hall or out in the covered courtyard, which in both places buzzes with life.
If you want to sit in a more tranquil environment, you can order or take your food down to Esbjerg Street Food's cozy café, which contains soft leather sofas, coffee tables and quiet music.
At Esbjerg Street Food there is over 2000 m2 of space, which allows the place to accommodate larger groups, business visitors and company events who want to sit together for lunch, dinner or drinks.
Opening hours in food stalls
Monday to Thursday 11.30-20.00
Friday and Saturday 11.30-21.00
Sunday 11.30-20.00
Opening hours in bars
Monday to Thursday 11.30-22.00 (latest)
Friday and Saturday 11.30-24.00 (latest)
Sunday 11.30-22.00 (latest)