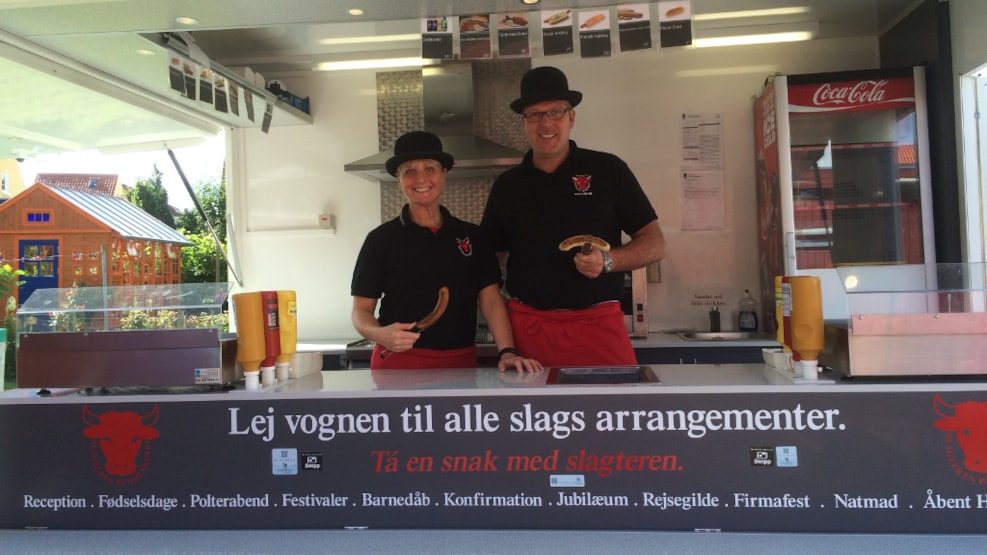 Hire the best hot dog stand in town
We all need something to eat, so why not try something different. The butchers on Odensevej is at your service in our charming hot dog stand with tasty homemade quality sausages. You are not just hiring a sausage cart, but an authentic hot-dog stand atmosphere of superior quality. Leave your lunch or evening meal requirements in our capable hands. We will provide everything and come to you.
All of our products are homemade and no matter what you sink your teeth into, frankfurter, weiner sausages or barbeque sausages; you will get a tasty sausage with low fat content and no E-numbers or other chemicals.
We are very flexible and can provide whatever you need. An alternative to sausages could be rotisserie cooked belly pork or chicken, roast meats, with various forms of salad and potatoes – we always try to accommodate all your wishes. We also serve drinks: draught beer, soft drinks and wine – or anything else you might like.
The hot-dog stand has of course approval for the preparation of food and it is a part of the elite smiley scheme. Our friendly, well-qualified experienced staff all have the required compulsory hygiene certificate.
No matter the occasion, we look forward to welcoming you to the best hot dog stand in town.
Hire of hot dog stand 
DKK 1.000,- incl. VAT Hire of hot dog stand only with personnel
For personnel: DKK 375,- per hour, per assistant
Staffing after 22:00 there is a surcharge of DKK 500,- per assistant
The current product consumption is payable.
Power connection needed: 1x16 amp, or 2x16 amp