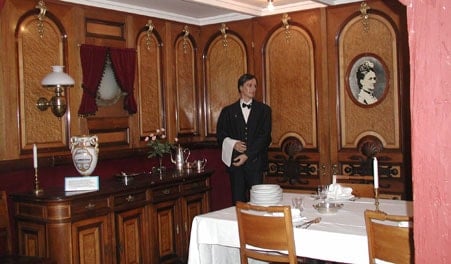 Korsør Town & Crossing Museum
On the first floor in the Great Magazine Korsør Town & Crossing Museum can be found. The collection contains models of ships and ferries from the Great Belt Crossing; various items and interiors from the old ferries and ships, eg. a ferry saloon from 1883; historic material and interiors from Korsør town life.

Korsør Town & Crossing Museum is also for children - fun events are organised whereby children can dress up in historical costumes, they can touch various items and try them out. If you like to pay a visit to the tower, the key can be picked up at the museum.

The first mention of 'Korsør' as the name of the town occurs in 1241, and it is from this period that the medieval tower dates. The tower - part of a complex of buildings that constituted Korsør Castle - was demolished in the early 1800´s.

The Great Magazine was constructed by order of Christian IV around 1610. 2011 the 400th anniversary is celebrated with several exhibitions and arrangements. 

15 June 2008 the Korsør Town & crossing Museum celebrates its 25th anniversary with a special exhibition.