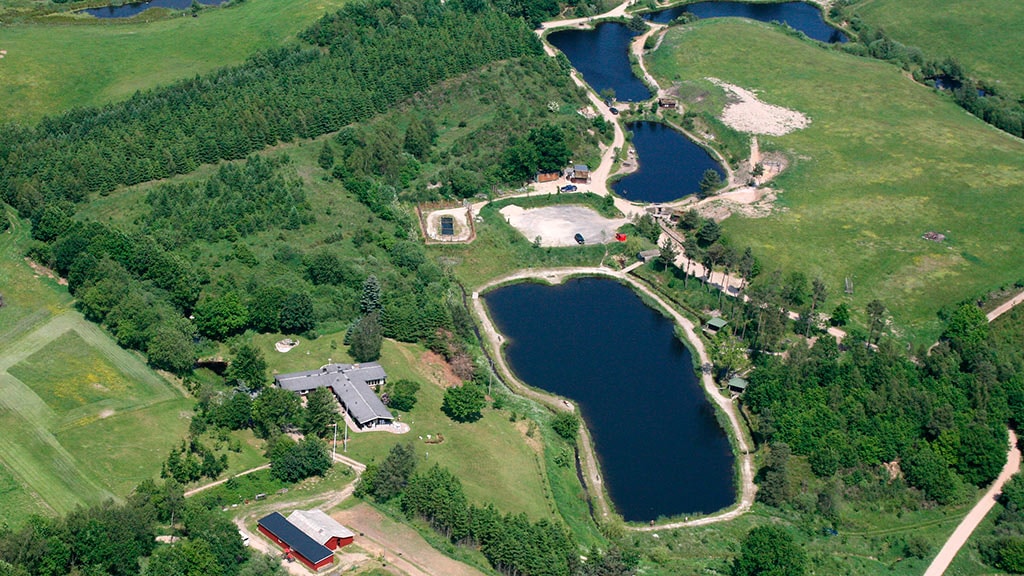 Lystfiskerparadiset
With its four spring lakes along the river valley of Vejle Ådal, Lystfiskerparadiset (Angler's Paradise) offers outstanding natural beauty – and plenty of fresh air – as well as magnificent and agile trout. The location offers a relaxed and enjoyable atmosphere as well as high-quality facilities and services.
The amenities at Lystfiskerparadiset include WCs, a fish cleaning area, fridge, many tables and bench (several of them covered) and a shop.

You can grill your catch on two large mobile barbecues or at one of the many smaller barbecues on the site.

Accommodation
There is nothing quite like enjoying the peace and quiet of angling, all while appreciating the fact that you don't have to head home the same night. Lystfiskerparadiset features 20m2 log cabins offering a simple, pioneer-like atmosphere. There are five beds, a fridge, freezer, stove, oven and lighting as well as warm and cold water. Please note that there is no bathroom in the cabin. You must provide your own bed linen.
Lake hire for groups
At Lystfiskerparadiset you and your friends, family or company colleagues are guaranteed an excursion with plenty of great fun as well as entertaining catches. The four lakes can be rented either together or individually for between 25 to 100 people. To ensure you enjoy a weatherproof experience you can also rent a party tent that seats 50 people.