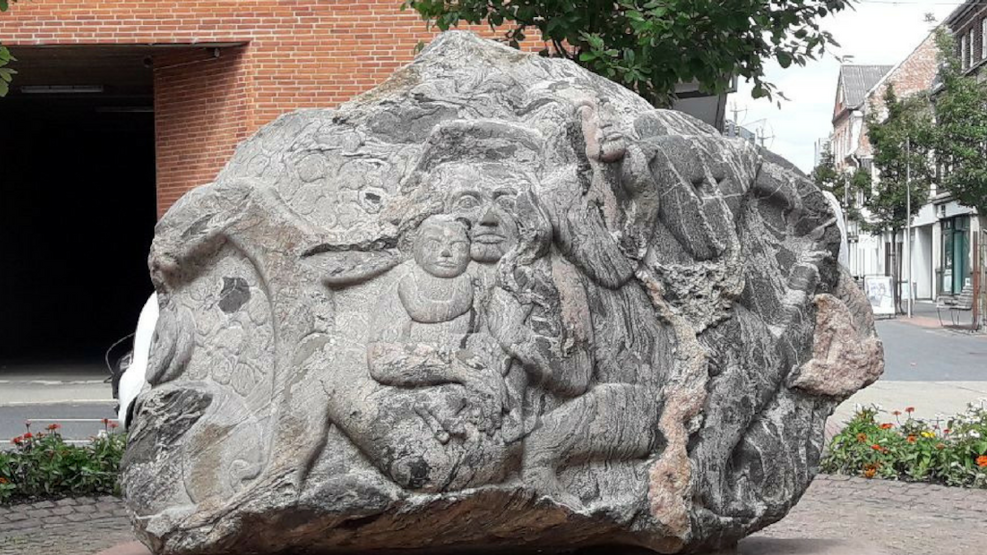 The Monument of Fire
The Danish sculptor Ejgil Westergaard, son of Thorvald Westergaard, made "The Fire monument". Both Westergaards have several of their sculptures to stand in Holstebro. Among other things: The Syssel Stone, The Pedler, The Conviction.
Near Giestgivergaarden Phønix you find the Fire Monument. It's really just a big stone, but carved into it is a series of human fates.
"Holstebro has been burned to the ground several times, and in 1986 there was a sculptor, Eigil Westergaard, who made a monument to commemorate the people and buildings that were lost in the fires," explains tour guide Ruth Lovmand Rasmussen.
"After the last big fire, which was in the 1700s, it was decided that the church bell should ring every evening at 10 o'clock. - This to remind the citizens that they should turn off their fireplaces now and go to rest," says Ruth Lovmand Rasmussen.
"1986 was the 250th anniversary of the Great Fire on July 22, 1733. The Fire Monument tells of the great fires which from 1552 to 1794 repeatedly put Holstebro in ashes."
Join Ruth or one of the other tour guides on a free city walk to the art of Holstebro on Wednesdays at 1 pmin July and August starting from Woman on Cart. The tour goes by e.g. Woman on Cart, the Citizens of Holstebro, and Metal Boar.