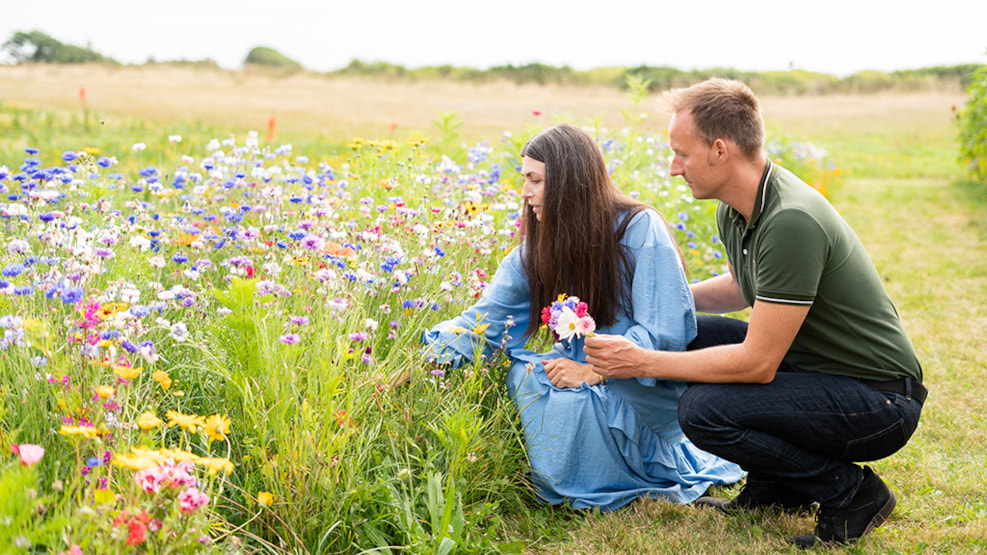 Pick-your-own flower fields in The Coastal Land
Make your own colourful bouquet of beautiful flowers from the colourful flower fields in The Coastal Land. Here you can find the bouquet for the home, the holiday home, the boat or as a gift to someone you care about.
Pick your own flowers in East Jutland
Frilandsblomster has a series of flower fields in the area of Kolding, Horsens, Vejle, and Aarhus that provide an opportunity for you to pick your own flowers straight from the field. The selection of flowers is big and depends on the season. The selection varies a bit from field to field but you will most often find tulips, irises, ornamental onion, Chinese peony, lilies, sweet williams, dahlias, sunflowers, gladiolus, and summer flowers.
How does it work?
The concept at Frilandsblomster is simple. Borrow a knife at the information board and cut the flowers you want. At the information board you can see the prices. Payment is cash or Danish payment app MobilePay.
Where do I find Frilandsblomster in The Coastal Land?
Frilandsblomster has the following flower fields in Horsens, Odder and Hedensted Municipalities:
Brædstrup: Silkeborgvej 52, 8740 Brædstrup (Three kilometres north of Brædstrup on the main road towards Silkeborg. Close to the village Sdr. Vissing).
Horsens south: Vejlevej 199, 8700 Horsens (South of Horsens next to the main road between Horsens and Vejle. Close to the village Oens).
Horsens north: Sorthøjvej, 8700 Horsens (In the village Egebjerg. Located next to the roundabout on Skanderborgvej).
Odder: Hølkenvej 35, 8300 Odder (Next to the main road between Odder and Hou near the village Spøttrup).
When are the fields open?
Since Frilandsblomster is a self-service concept, you can cut flowers 24/7 – seven days a week.
As you know, flowers do not bloom all-year-round, and the selection differs depending on the time of year. The season is May 1st – November 1st.
What is Frilandsblomster?
Frilandsblomster is Denmark's biggest supplier of pick-your-own flowers with a large number of fields in Eastern Jutland, between Kolding and Aarhus. Frilandsblomster only uses bulbs and seeds of the highest quality. At Frilandsblomster they guarantee fresh flowers, since you choose and cut the flowers yourself.