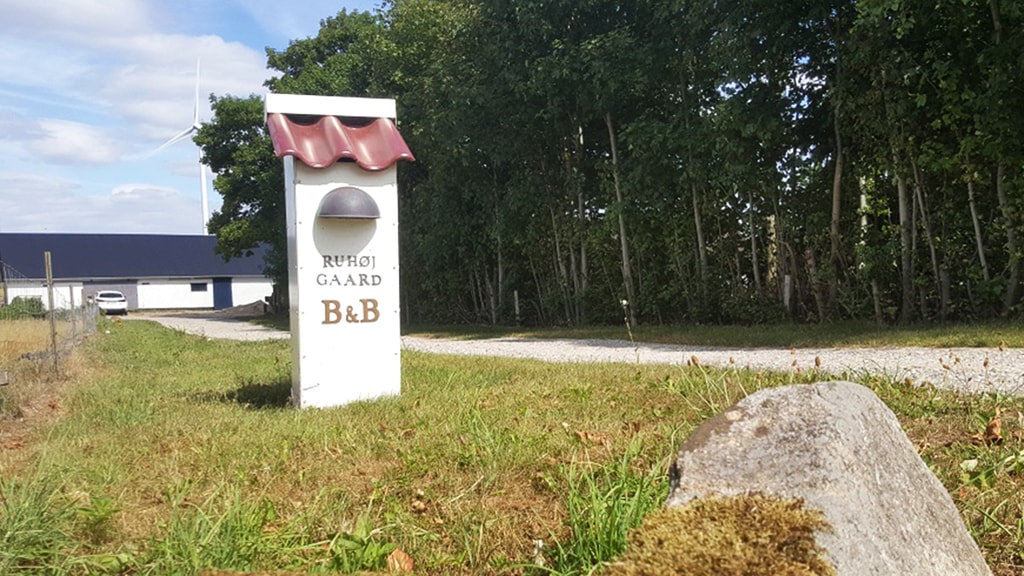 Ruhøjgård Bed & Breakfast
Ruhøjgård Bed & Breakfast is a nice and charming place, that is located in the middle of beautiful nature. Here you can enjoy some peace and quiet and lean back, relax and have a good time. 
The Bed & Breakfast is close to several big cities where you'll find both cultural enjoyments, stores, restaurants etc.. You can either go to Randers, Mariager, Hadsund or the highway E45 - all within 30 minutes. 
The B&B has enough space for eight guests to spend the night and a good common areas, which makes the place perfect for groups.
Ruhhøjgård is a lovely property, where they have four cozy rooms, three with double beds and one room with two single beds. The rooms either have their own balcony or terrace. One of the double rooms has its own bathroom, while the other rooms share bath and toilet.
In the former stable, which is now renovated and nicely decorated, you will find a cozy common room, with a well-kitchenette, dining space and comfortable chairs, sofas and television. Here you will also find a billiard-table as well as access to a fitness-room and bathroom. 
From the common-room there is access to the terrace. 
The outdoor areas are very cozy and charming with outdoor furniture and flowers. You can find sheep on the property and the hostess are more than willing to help you find some good places for a walk in the area.
Lovely surroundings and cultural experiences
Ruhhøjgård is only 12-20 km away from Mariager, Hobro, Hadsund and Randers, which gives you good opportunity to experience plenty!
At Ruhhøjgård you are surrounded by beautiful nature, just waiting to be explored – there are many possibilities for walks, hikes and cycling. Ruhhøjgård is close to a larger forest where you can see Mustard Point, which is the place where 'Hvidstengruppen' received their weapons in WW2. The restaurant Hvidstenkro is located 6 km from the place.
In Spentrup where St. Blicher was a priest in almost 25 years and is buried here, you can find 'Blichers memorial' in Malvinas Hus. Blicher is believed to have planted the forest there, which has given it the name 'Blicherskoven'.
Bring your horse
At Ruhhøjgård, there is two horse boxes available – so you can bring your horse, but only if it's arranged beforehand.
Booking
Two of the rooms can be booked at booking.com, otherwise contact the hostess Lykke by mail or phone.