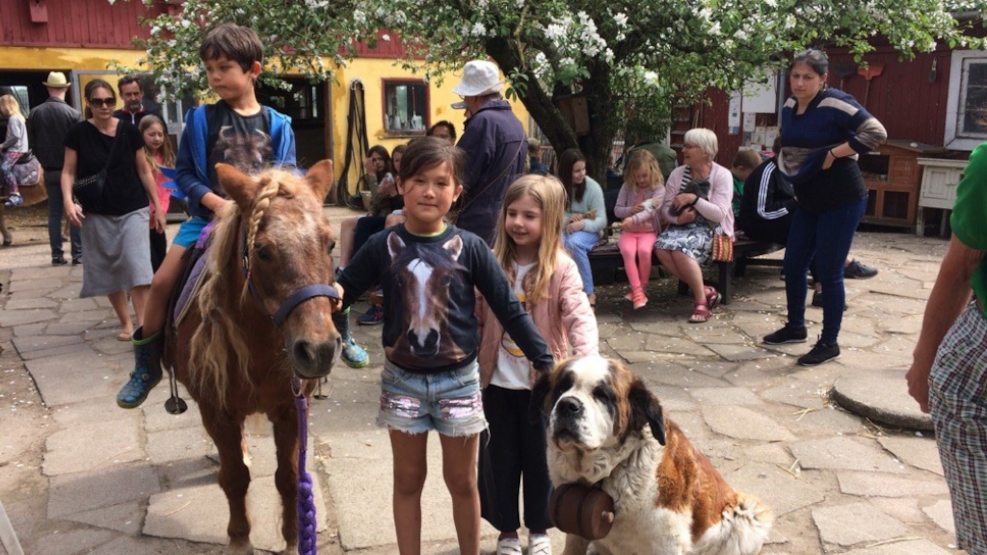 Visit the farm Grønnehavegaard
Three generations welcome the guests at the four-length yellow half-timbered yard in Vinderød at Frederiksværk. Here are 15 different animals and you can help feed and clap them.
A visit to Grønnehavegaard is exciting for the whole family. The children can cuddle and cuddle with up to 15 different kinds of animals. Dogs, cats, chickens, geese and ducklings and many of them want to be petted and petted.

Join the tour and help feed the animals on the farm. The farmer shows around and tells about all the animals. Hop on the farm wagon as it is strapped to the tractor, and the ride goes beyond the fields to the Scottish Highland cattle. Out here in the open, you might also be lucky enough to see deer and pheasants.
Horseback riding
Join us for a nice ride on the farm's pony. It is mom or dad who pulls.
Museum visits
Visit the small museum with stone axes, which is found in the fields of the farm. Here you can also see various old tools from the past and hear the story of how to farm in the old days.
The Café
In the courtyard or in the old cowshed, it is possible to buy and enjoy cake, ice cream, toast, soda, tea, coffee or hot cocoa. It is also possible to enjoy your own packed lunch and drinks at one of the many tables or on the lawn in the garden area.
Farm shop
The farm shop is open with sales of meat and sausages from our Scottish Highland cattle. See opening hours on our Facebook page.
The history of the farm
Grønnhavegård is a yellow four-lane half-timbered house that was built after a fire in 1834 and was completed in 1936. Grønnehavegaard has been used as a backdrop for up to several films. The film "Ditte Menneskebarn" and the Christmas calendar from 2000 "Alletiders Eventyr" with Pyrus have been shot on the farm. The TV show Ramasjang has used some of the farm's animals in an animal quiz.
Practical information
We do not accept Dankort but mobile pay and cash. Dogs have no access as many of our animals are free-range on the farm. Note: CLOSED ON FRIDAY. See all opening hours here
Experiences nearby
Grønnehavegaard is located in a wonderful area, and almost in the backyard, you can find Denmark's largest lake Arresø. Not far from the farm is Vinderød Church, where especially the cemetery is worth a visit as among graves, behind trees and on hills, there are small sculptures of squirrels, foxes, frogs, goats and deer, as well as works by the local artist Leif Nielsen and sculptor Preben Boye. At the same time, there are the most beautiful views of Arresø.