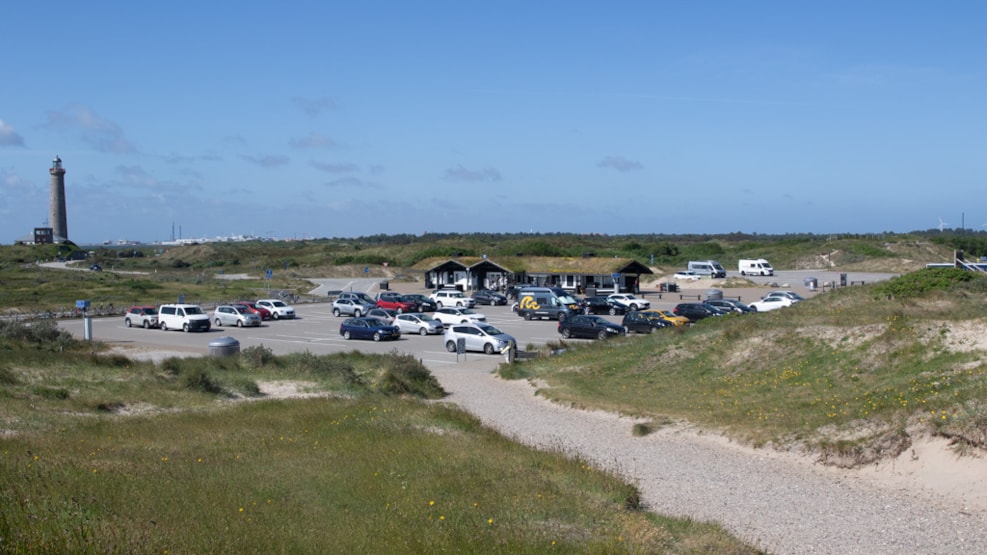 Accessibility and Parking lot at Grenen
At Grenen there is a large parking lot for cars, motorhomes and tourist buses.
The Route to the Parking lot at Grenen
If you are traveling to Skagen by car and your starting point is Skagen town centre, you reach Grenen by driving through the town by Chr. d. X's Vej and turn left at the traffic light at Nordjyske Bank/Foldens Hotel. Then you drive north until you cannot go any further and you will reach the parking lot by Grenen at the end.
If your starting point is not Skagen town centre, the easiest way you will reach Grenen is via Bøjlevejen, which you will find if you turn left at the first roundabout you meet when entering Skagen. Then you simply follow the signs that lead to Grenen.
If you come by bike, you simply follow Vestkystruten that ends at Grenen, and pedestrians can either choose the same route as the cyclists or walk along the beach.
If you don't have the mind to either walk or cycle and if you don't have a car in Skagen, the city bus goes to Grenen from Skagen town – see more about Skagen Bybus.
At Grenen, a big parking lot exists that accepts passenger cars, camper vans and tourist busses and in 2020, it is free to park here, except during the three summer months June, July and August (kr. 11 per hour). NOTE – YOU CAN ONLY PAY WITH CARD AND MOBILE PAYMENT – NO CASH.
The Road to Grenen from the Parking Lot
From the parking lot at Grenen, you can choose to either walk to the tip of Grenen – you find the road there via a path to the right of the restaurant/museum building. Here, you will pass by Drachmanns Grav (note: the last part of the way is through sand) or you can choose to take a ride with Sandormen.