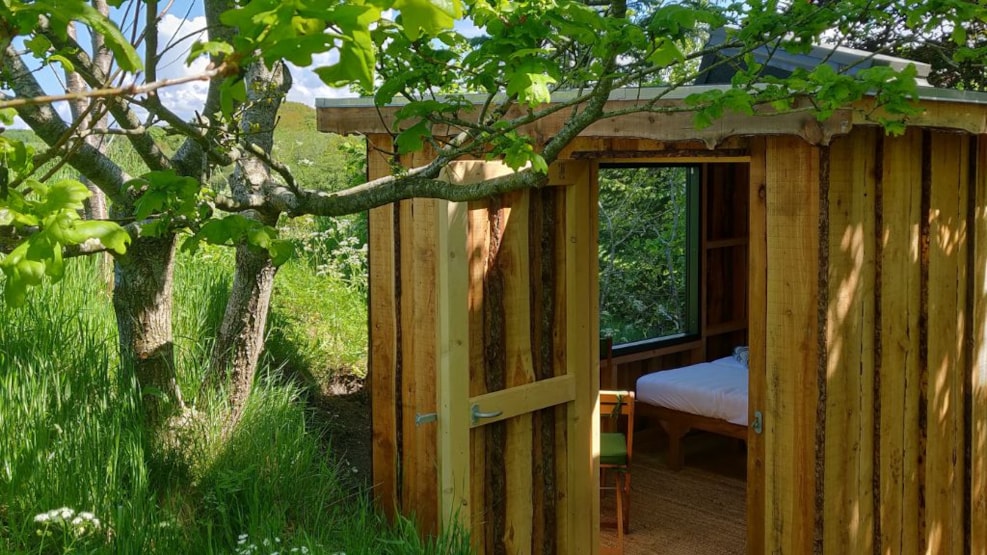 Ådalshytterne (Koppes Mølle)
Wake up to the birdsong in the Ådalshytterne at Koppes Mølle B&B. The cabins are located in the heart of nature and are perfect for those who want to enjoy life in peace and tranquility.
The Ådalshytterne at Koppes Mølle B&B are 2 brand-new luxury shelters built with nature in mind. Koppes Mølle B&B is a sustainable and atmospheric B&B with peace and charm in a creative and natural environment. It is recommended for nature lovers, fishermen, bird enthusiasts, cycling and hiking tourists.
Perfect for those who want to stay in close contact with the wild nature and wake up in the morning to birdsong and the sun's rays. From the cabins, there is a stunning view over the valley and its fantastic wildlife.
Ådalshytte 2 has a rooftop terrace where you can enjoy breakfast while watching the sunrise.
The cabins are 9 square meters and can accommodate up to 2-3 people.
Near the cabins, there is a fire pit where you can spend the evening after a day in nature.
An overnight stay in the Ådalshytterne includes free WiFi, as well as coffee and tea. There is the option to bring your own sheets/sleeping bags and bedding or to purchase additional bedding.
There is also the option to add an extra mattress, a winter sleeping bag, breakfast, and electric car charging. Prices can be found here.