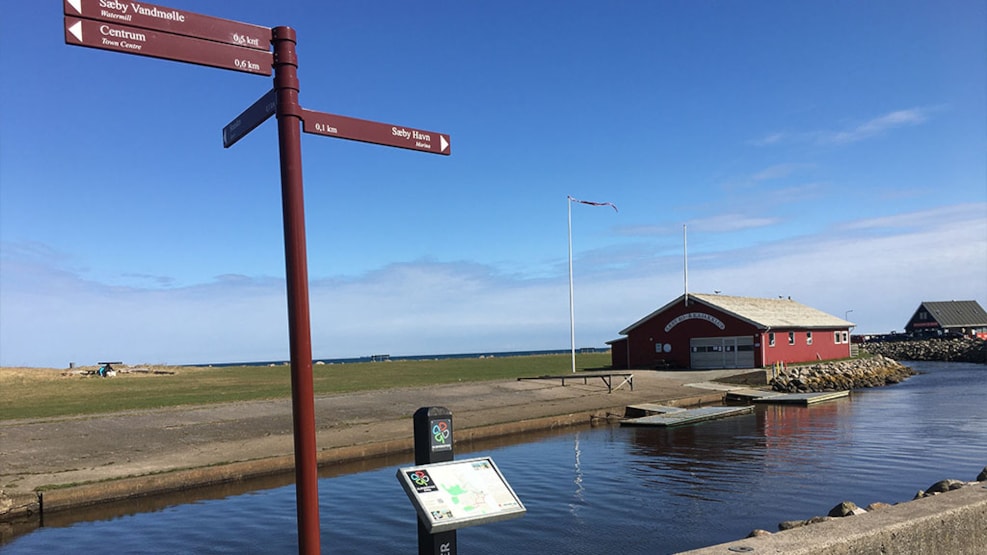 Black Route
Kløverstierne is a national path concept that offers rich opportunities to walk, bike or run a measured and marked route while obtaining many good experiences.
A kløversti consists of four routes that all start at a centrally placed Kløversti pole. In Sæby, it is placed on Sæby harbour by the bridge over Sæby stream.
The Kløversti can also be found on your mobile phone via Endomondo.
You do not need the black belt to handle the longest Kløverrute in Sæby. But the route constitutes exactly half a marathon, so if you choose to run the route, your form is already very good. After a fresh start by the ocean, you continue by the old railway path to the "hill stage" through Nellemanns Have, up Gedebjergvej with the impressive view over Kattegat. Beautiful descent through Sæbygård Skov, past Herregården Sæbygård and Sæby Golfklub by the country road to Gybels Plantage, where you can rest and stretch. From here, the walk goes back to Sæby Havn past Minibyen, the beautiful lifeboat house of Sæby and the landmark of Sæby, Fruen fra Havet.
Experiences along the route
- From the fresh salt breeze of the ocean to the deep peace and quiet of the forest.
- The esplanade (2.4 km)
- Nellemanns Have. Crab apple garden, forest- and rhododendron garden.
- Herregården Sæbygård, 1575. Up to 1536, it was the summer residence of the Børglum bishop. Latest, the property of the family Arenfeldt. Now museum with unique household effects.
- Gybels Plantage and Sø. 'Hjertesti' with exercise tools and lunch pack house.
- Minibyen Sæby – the re-creation of the old Sæby in a scale of 1:10.
- Sæby Redningsstation
- Fruen fra Havet – the landmark/figurehead of Sæby by M. Benthe Norheim.
Map over the black route