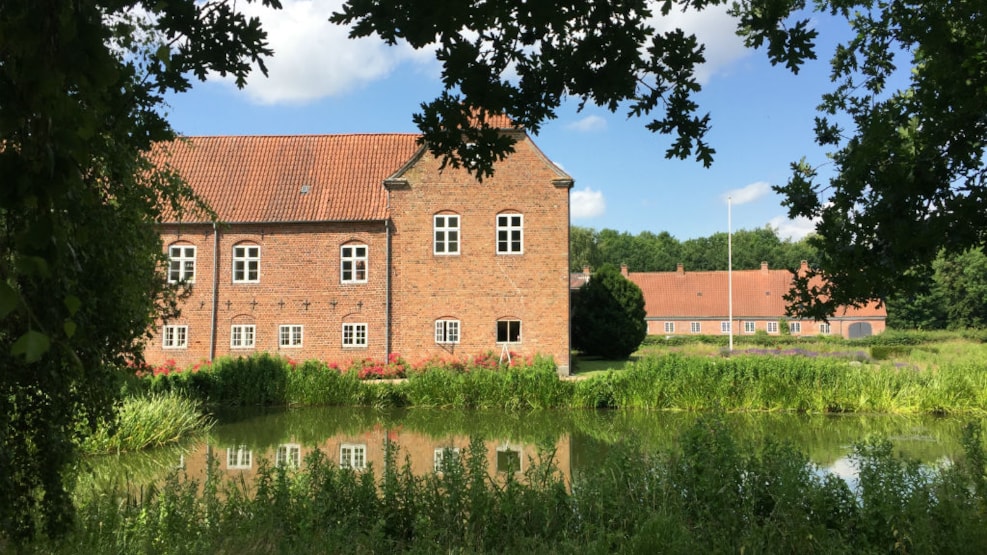 Boller Castle
Boller Castle is a historical building, dating back to the middle of the 14th Century, and involves several noble families, drama and parties in the surrounding garden back in the 1700s. Visit Boller Castle grounds and feel the presence of history.
Boller Castle and the many noble families
Today the castle consists of 4 wings closing around a courtyard. The castle has not always been like this. The different wings and renovations have been added over time. Earlier the castle had towers with spires.  The first mention of the castle is in 1350, but information regarding the ownership of the castle is not available before the 1400s. The castle has changed hands many times through history between different noble families. 
The Banishment of Kirsten Munk
In 1621 Ellen Marsvin buys the castle. She is the mother of Kirsten Munk who was married to the Danish king Christian IV. In 1630 she is put in house arrest in Boller Castle, after her break with the king. She remained at the castle until her death.
Boller Castle in the 1900s and today
In the early 1900s Boller Castle is sold to the state and soon after to the Danish insurance funds in 1930. From 1965-2012 the castle was a nursing home. In 2015 the castle was sold, renovated and made into apartments and rented out as accommodation and for business.
The castle is not available for visitors, but the Castle grounds and the Castle gardens are open to the public during spring and summer.
Make a visit to Boller Castle and experience the area and building. Get an insight into the unique history of Boller Castle. Visit the gardens and bring your own food, enjoy a nice day in beautiful surroundings. See one of the oldest oak trees in Denmark dating back to the time of the Vikings.
Culture history in scenic surroundings
Boller Castle is idyllically located by the old manor forest, Boller Nederskov. By the castle grounds you find a large park, including the gardens with all sorts of flowers, sculptures, an Asian inspired garden with turtles, a moat and a 1000-year-old Oak.
There are plenty of opportunities for a good walk on the many paths in the forest, which also lies near Boller Pier, the inlet and Horsens city.
Boller Castle is connected to Horsens city by the 3-kilometre-long Planet path (Boller path) , which follows the southern banks of Horsens Fjord.