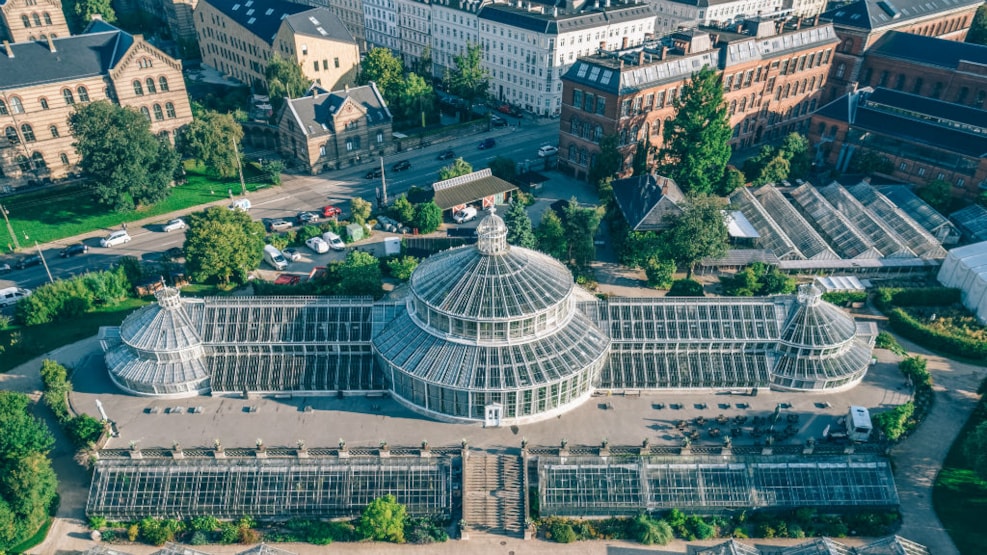 The Botanical Garden
Ten hectares of gardens with a butterfly house and a tropical palm house dating to 1874. 
The Botanical Garden is Denmark's largest collection of living plants, a few steps from Nørreport Station. It's a free public green space to roam and relax in filled with rare trees, shrubs and herbs.
Take a walk and discover more than 13,000 species across multiple different sections including: Danish plants (600 species), perennial plants (1,100 species), annual plants (1,100 species), rock gardens with plants from mountaineous areas in Central and Southern Europe, and a Conifer Hill, planted with coniferous trees. One of the newer inclusions is a rhododendron garden. Along with gardens and historic glasshouses dating to the 19th century, the gardens also have three gene banks.
A historical garden
The garden was first established in 1600 but was moved twice before it was ultimately given its current location, in 1870. The garden was laid out in 1874.
The collection of 27 glass houses are particularly stunning. Dare yourself to take a walk up the 16m tall narrow, cast-iron spiral staircase inside the Palm House, which dates to 1874.
The garden also has a special air-conditioned greenhouse that can re-create environments suitable for Arctic plants.
Other attractions at the Botanical Garden
The garden also contains a growth house, a flower shop, a café and a butterfly house (small entry fee). The butterfly house is open during the summer season only, giving visitors the opportunity to explore the butterflies' fascinating life and transformation at close hand.
Guided tours can be arranged at mail: rundvisning@snm.ku.dk 
The Parkmuseerne District
The Botanical Garden is a part of the Parkmuseerne museum district in and around King's Garden, just five minutes' walk from Nørreport Station. A ticket to Parkmuseerne gives you access to all six great museums in one ticket.