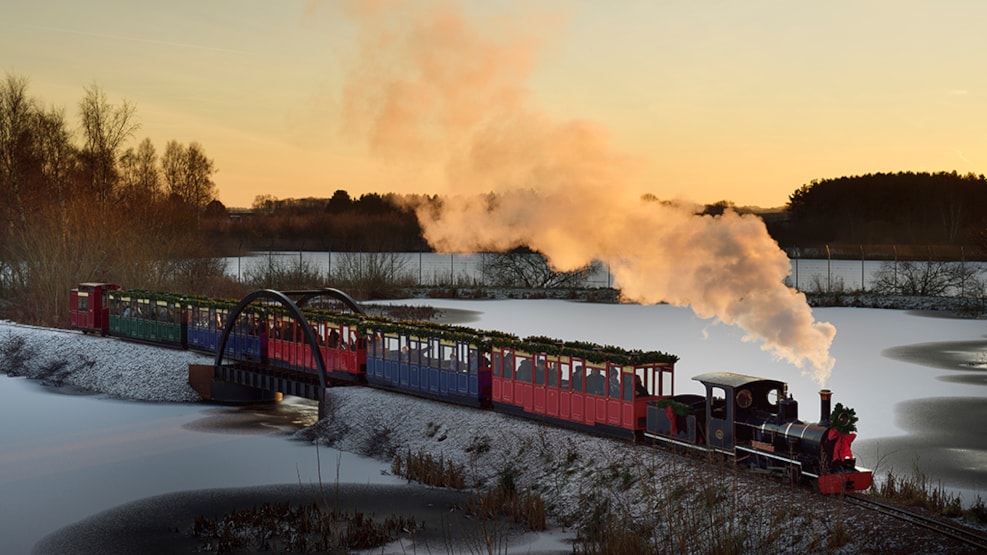 Christmas in Ree Park Safari
Feel the exotic Christmas spirit among the wildlife at Ree Park Safari in Djursland. During three weekends, you and your family can share a lovely Christmas experience at the park and at Central Station, where you will find Christmas activities for everyone.
Experience the park at Ree Park Safari during Christmas time, where some of the animals have withdrawn a bit in the cold winter season. Enjoy the cozily decorated train station, take the Steam Train Black Beauty around the park, and greet the cheerful Santa Claus.
There is free admission for children under 12, and the entrance fee for adults is only 50 DKK.
America Express
The Steam Train Black Beauty takes Christmas rides out on the American prairie. The bears have gone into hibernation for the winter, but elk and bison are still on the prairie, and the Arctic wolves are definitely in their element when the snow hopefully covers the landscape in December.
Animal Feedings
There are several feedings throughout the day, providing ample opportunities to experience the animals up close. The guide will share information about the animals, their lifestyles, and how Ree Park works with endangered species.
Christmas Market and Safari Shop
Explore the Christmas market at Central Station and throughout the park, where exciting stalls offer unique gifts. The park's well-stocked Safari Shop is also open, featuring many great Christmas offers, making it possible to buy a spectacular and different Christmas gift to take home and place under the tree.
Christmas Brunch
Start your visit to Ree Park with a Christmas brunch at Katanga Hill Dining. Brunch is served from 11 am to 1 pm in the restaurant right in the middle of the lion enclosure. You can then continue your tour around the park, as the entrance ticket is included when you book a brunch experience.
Accommodation - Winter Edition
Do you want the ultimate Christmas experience with the sky above, exotic animals, and intriguing nighttime sounds? Then spend a night in Night Explorer or Camel Camp. In connection with the park being open for Christmas, you can stay overnight and enjoy both the Christmas atmosphere and hopefully a starry sky if snow doesn't fall from the heavens. It's a magical Christmas experience that will undoubtedly put you in the holiday spirit.
See what others are sharing on Instagram