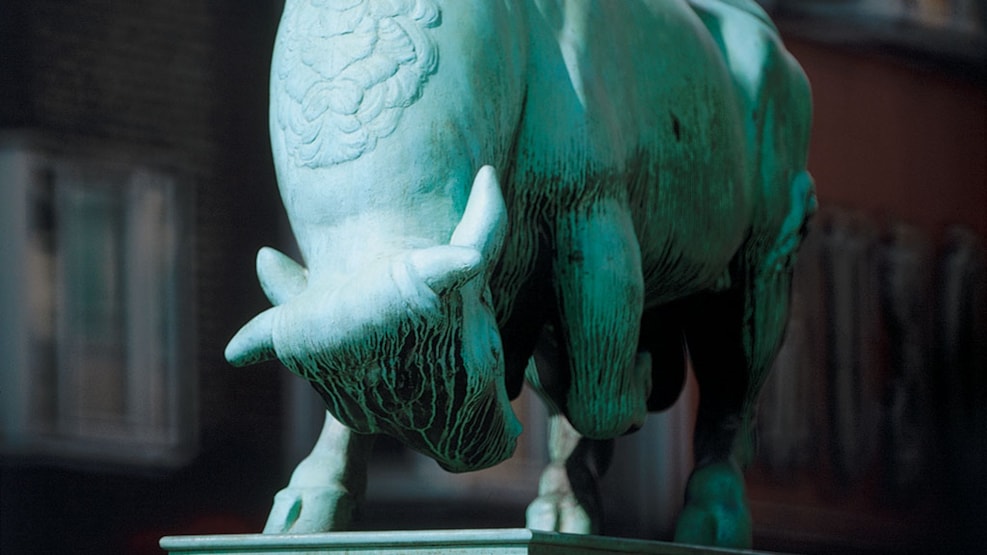 The Cimbrian Bull
At Vesterbro, near the busy shopping streets, stands the trademark of Aalborg. The Cimbrian bull symbolises the strength of Aalborg and Himmerland. It stands on its pedestal high above the traffic.
On the pedestal, writer and poet Johannes V. Jensen's tribute poem to the Cimbrians is engraved. The famous Danish writer and later Nobel Prize winner was present at the revelation of the sculpture on April 14th, 1937 where he read the poem out loud to attending citizens.
The artist
The bull is one of the greatest works of the sculptor Anders J. Bundgaard. The work was paid by "De Danske Spritfabrikker" (The Danish Distilleries) and the bull is placed on historic ground since this was where the old distillery was placed until it was closed in 1931.
The rough design of the sculpture, of which there is a model in Bundgaards Museum in Tingbæk limestone mine, was made by architect Alf Cock-Clausen. At the unveiling, the drawings were put in the pedestal along with the foundation stone document and Doctor of Philosophy Johannes Brøndsted's essay of the Cimbrian expedition.