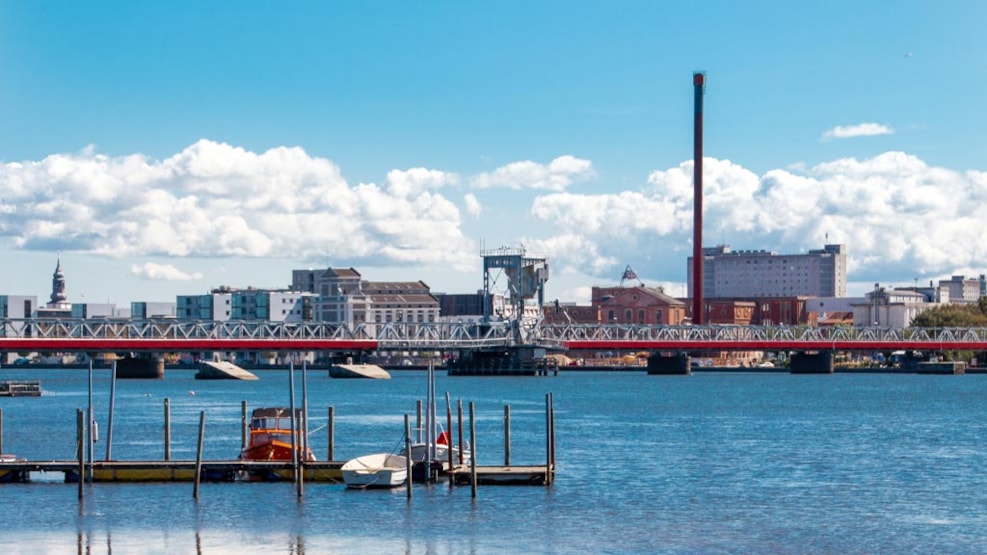 Culture Bridge in Aalborg
The Cultural Bridge in Aalborg
The new Cultural Bridge in Aalborg was made for pedestrians and cyclists – here, they can walk and ride their bicycles safely without having to deal with heavy traffic. You can even take a break and enjoy the view of the island Egholm and the fjord while you're on your way across the bridge.
With the opening of the new Cultural Bridge in March 2017, pedestrians and cyclists were given the opportunity to cross the Limfjord via two bridges. The Cultural Bridge is attached to the west side of the existing railroad bridge across the Limfjord, and here, pedestrians and cyclists are able to cross the fjord completely shielded from the train traffic.
Aalborg's own lock-love bridge
The Cultural Bridge is easily recognizable by its red color and beautiful lights at night. Perhaps the bridge gained its nickname "Bridge of Love" because of its red, warm color, the amazing view, and the relaxing experience of crossing the bridge. Many have crossed the bridge and felt the air of romance which surrounds it and many have sent warm thoughts to Paris, the city of love, and the famed bridge of love, "Pont des Arts". Many couples have already attached padlocks to our local bridge of love to manifest their love for each other.
A new favorite spot
Contrary to Limfjordsbroen, which is parallel to The Cultural Bridge, pedestrians and cyclists are shielded from traffic at The Cultural Bridge, and this has contributed to the bridge's popularity – to many visitors, it has become a new favorite spot where the view of the fjord and its waters can be enjoyed during a small break from everyday life. The sound of water and waves seems to attract people almost magically, and with the new bridge, Aalborg has acquired yet another special place to enjoy the Limfjord.
A bridge at the center of it all
The bridge is located right in the middle of the Western part of the city, and for a lot of people this means that getting from A to B is a lot faster. In addition, you are now able to choose whether you feel like crossing Limfjordsbroen bustled with traffic or whether you feel like enjoying a quiet stroll across The Cultural Bridge.
Read more about the Culture Bridge in Aalborg...