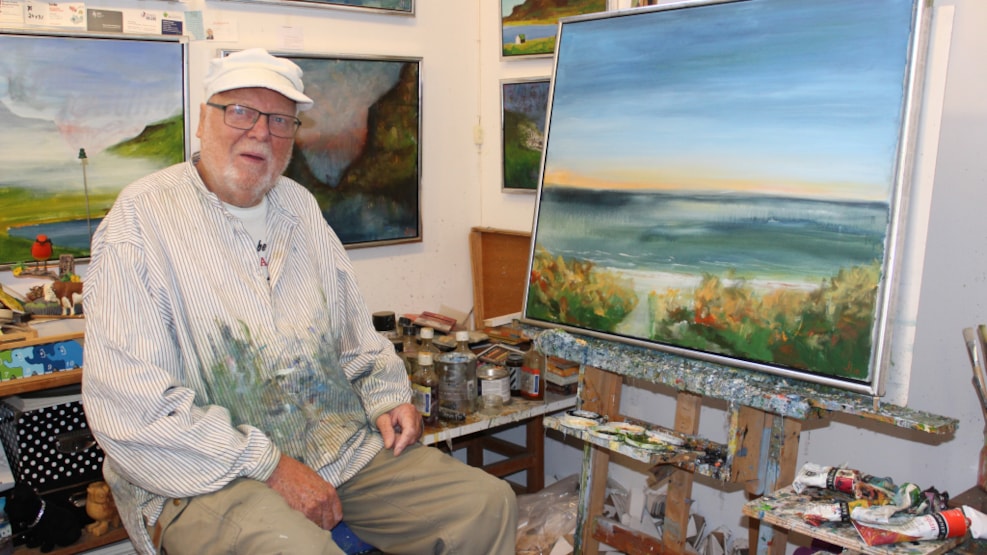 The Father of Thousands of Colourful Landscapes
The artist Jeppe Jeppesen sees his paintings as his own children. It is therefore important to him that they are sent off to their new owners in a good way. If not, he would prefer to keep the paintings for himself.
 
Jeppe Jeppesen places a packed ring binder on the corner of his crowded working table in the interior part of his workshop. The ring binder is full of photos and greetings from earlier customers.
"People are often kind enough to send me a greeting along with the painting they bought. That makes me feel really happy. In a way, the paintings are my children. I put a lot of work into them, so it is nice to see that they have been hung in a place where they will evoke joy," Jeppe explains while turning over the pages in the ring binder with enthusiasm. With each page he breaks into a smile and tells a small anecdote about the customer's visit to his workshop. Five packed ring binders bear witness that Jeppe is a productive and successful artist. And by far, not all his paintings even end up as sales objects. Many of his paintings hang in his house which is in extension of his workshop at Mårup. He finds a small, square landscape painting and strokes it tenderly on its frame:
"This painting had originally been sent off to an art gallery, but when I saw it hanging there, I had second thoughts and said 'No, I'll miss this painting', and so it had to go home again. It wasn't the first time that this happened."
Drama at Stauns
Originally, Jeppe was a skilled engraver. The last one of his kind in Denmark before engraving was taken over by machines. He later turned to copperplate engraving and oil painting. In his paintings particularly dramatic natural scenes tend to find their way to the canvas. He also loves the scenic Faroe Islands and Greenland, but loves the nature on Samsø and finds it a good inspiration. And he hasn't had enough of it even after 26 years on the island:
"Nature in the North of Samsø is beautiful, but also surprising and contradictory. There are 10-12 places where I keep going back," Jeppe says.
In particular, Stauns Fjord is a favourite, and he finds two different paintings to show us why. One of the motives is in bright colours with a clear sky, while the sky on the other painting looks like a small drama in itself with a sombre sky and a rough sea.
He is looking at the bright painting, shaking his head a bit while explainig that he is not altogether pleased with it. Incidentally, that goes for a number of his paintings. He does the first painting, and later he might repaint it, sometimes several years later.
"The most difficult thing about painting is actually to simplify a work as much as possible. This has been a bit of a lifelong struggle and something I am continously aware of."
Jobless Caps
Even though Jeppe, as time goes on, is of course aging he is not planning to retire:
"I feel that painting is hard physical work that tires you out and I am getting better at taking it a little easy. But the passion is still there and I paint almost every day. As a matter of fact, I still never put the caps back on the paint tubes because the paint doesn't have time to solidify before I'm painting again." And he isn't planning to give up his life on Samsø:
"The beach is just outside my house and the nature is wonderful. That goes for the people too, and I'm very fond of going to the Dagli'Brugsen supermarket at Mårup, to have a chat and hear how everything is going. So no, I won't leave Samsø until they have to carry me away."
About Jeppe Jeppesen
• Born in 1933 in Copenhagen. In 1986, he changed his first name from Jørgen to Jeppe.
• Skilled engraver and from the mid-1980's onwards, a painter, starting with oil paintings.
• Member of "Billedkunstnernes Forbund"
• Jeppe Jeppesen works as a naturalist based on landscapes from Denmark, the Faroe Islands and Greenland.
• Since 1990, he has owned a holiday cottage at Mårup on Samsø, and in 2000 he took permanent residence on island in the holiday cottage where he lives with his wife.