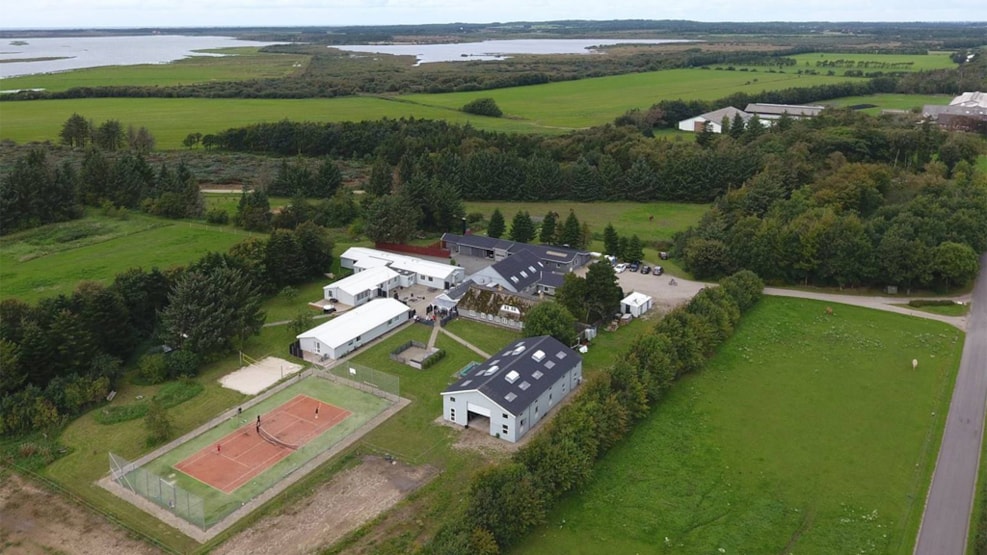 Filsø Active Nature Vacation
Filsø Aktiv Naturferie is located in scenic surroundings on the eastern side of Filsø, close to the resort town of Henne Strand. It offers ample opportunity for both relaxation and outdoor activities. When you stay at Filsø Aktiv Naturferie, you will be so far out to the west that the starry sky is perfectly clear and beautiful on the right nights, with only a handful of neighbours separating you from the North Sea!
Filsø Aktiv Naturferie is owned by Stinne and Kurt who are always on hand to provide unforgettable experiences. 
Pack Your Bike and Fishing Gear
Guests at Filsø Aktiv Naturferie can bring along their own bikes and keep them safe in a locked bicycle storage and changing area. You can also store your fishing gear in the same room, and if you are lucky enough to get a few bites when you go fishing, there is even a freezer that you are free to use.
The nature around Filsø is authentic and characterised by a rich birdlife. You will find scenic bike and hiking trails around the lake which are just waiting to be explored. Stinne and Kurt will always be happy to guide you and provide suggestions that are off the beaten track.
Horsing Around on Holiday
Filsø Aktiv Naturferie is also home to many different animals, and your own pets will be more than welcome, too. Even your horse will be welcome to join you on this holiday. The lodging has indoor horseboxes with free access to hay and straw in a calm and peaceful environment. During the day, your horse can go out onto the fields adjacent to the property, so you can also enjoy daytrips and excursions without your horse while on your holiday.
Accommodation
Filsø Aktiv Naturferie offers various different accommodation options throughout the year to suit all group sizes, from solo travellers to groups both large and small.
Holiday Home
The holiday home can accommodate up to 40 people across a total of 20 bedrooms, the majority of which are doubles. There is also a couple of family rooms and a single room. All rooms have box beds and there is a bunk bed in one of the family rooms. The home has five bathrooms and six toilets, several living rooms and reception rooms, and a large and highly practical industrial kitchen attached to a dining room where there is space for up to 45 people.
Bed and Breakfast
The cosy bed and breakfast has three apartments with room for up to 19 people across eight bedrooms, plus a free room that you can use for communal activities such as yoga, spinning or learning. The three apartments can be rented separately and one of them has been furnished and designed for guests who have reduced mobility. There are many localities around Filsø that are easy to get to for people who have reduced mobility, and Filsø Aktiv Naturferie will gladly provide suggestions for suitable day-trips and activities. They can also put you in touch with providers of mobility scooters and nature guides in the area.
Apartment 1: contains a room with two single beds and a room with three single beds plus a kitchenette and an accessible bathroom. There is parking practically right outside the door to this apartment.
Apartment 2: contains a room with one single bed, a room with two single beds and a room with four single beds, plus a living room with kitchenette and toilet/bathroom.
Apartment 3: Bed and breakfast with a room that has one single bed, two rooms each with two single beds and one double bed, plus a sofa-bed, toilet/bathroom with washing machine and tumble dryer, and a larger kitchen with common dining area. This apartment is suitable for larger groups.
Sleep Under The Stars
With views of Lake Filsø, Filsø Aktiv Naturferie also offers a true outdoor experience at their primitive camper and caravan site. The area has space for three units and all types are welcome. Electricity is available and you can make use of the facilities at the bed and breakfast.
In terms of nature, you will have the chance to spot many different types of animal around Filsø. Deer often come by, geese and swans pass through on their way south, and lapwings can be spotted in spring. From February, you will have good chances of seeing an entire heron colony. Eagles also come by frequently and both otters and foxes have been known to show up.