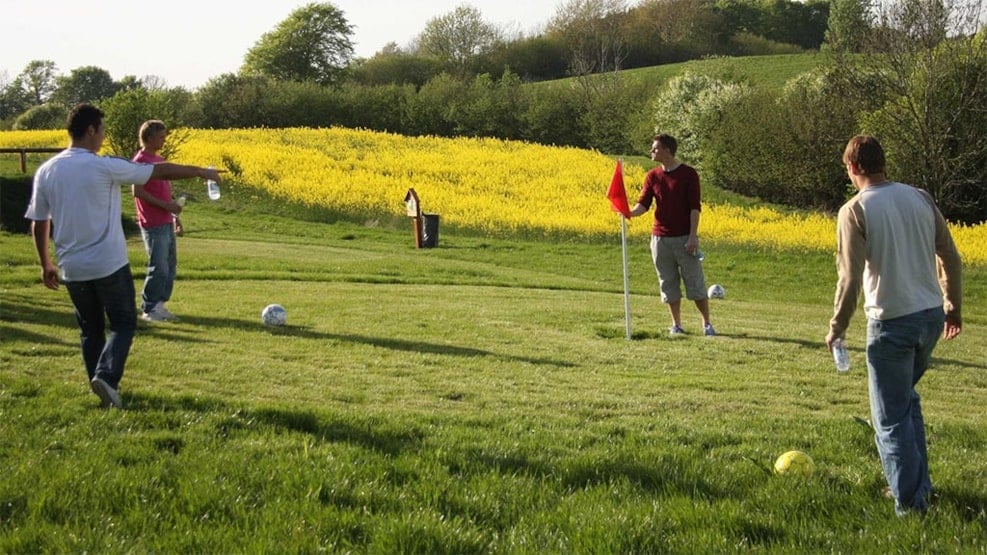 FodboldGolf.net in Odense
The game offers fun and activity and everyone can participate, regardless of age and previous football or golf experience. It's a Pay and Play course and once you've paid the entrance fee, you can use the facilities for as long as you like. Reservations are not necessary.
The rules for FootballGolf are almost the same as for regular Golf. Only the golf ball and golf club are replaced by a football and a good pair of legs.
Each course has, as in Golf, its own par (optimum number of kicks), a tee (starting point), a fairway and a green. The courses all have 18 holes and a total length of about 1.2 to 1.7 km.
The level of difficulty varies from hole to hole and the aim is to use the fewest number of kicks possible to get the ball in the hole from the tee to the hole on the green. The player who gets through the course with the fewest number of kicks wins the game.
It takes approximately 1.5 - 2 hours for a group of 6 to complete a round on the Football Golf Course.
NOTE - open from 10am to 8pm from April to October, but only during daylight hours.