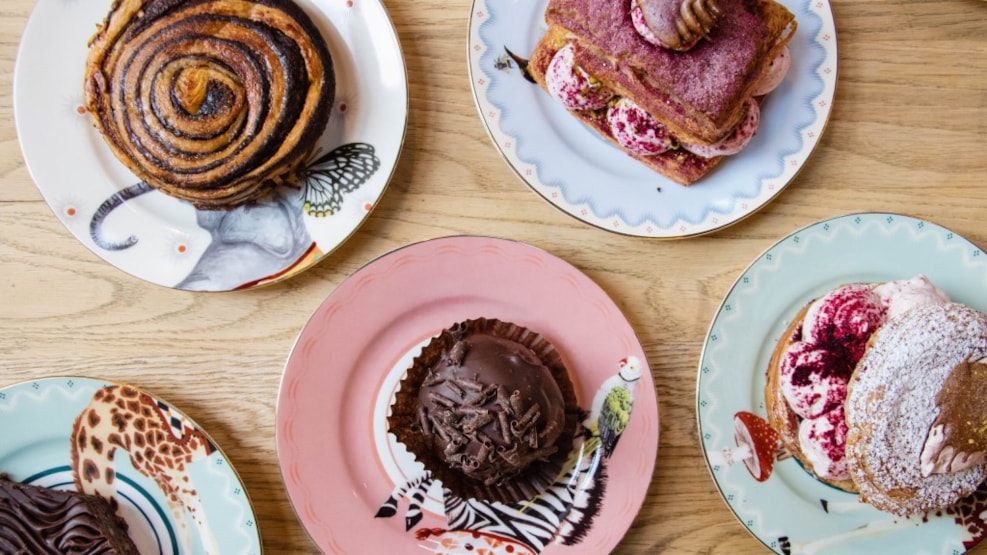 Fru Søgaard
Fru Søgaard - Aalborg's new bakery and eatery. Here, you can look forward to tasting delicious sourdough bread, a variety of pastries from the confectioner's art, generously topped open-faced sandwiches, crisp salads, and last but not least, a lavish brunch buffet every Sunday.
Fru Søgaard is the newest bakery and eatery in Aalborg, situated on the cozy square near C.W. Obels Plads.
The Søgaard family has been occupying the premises for the past 19 years and continues to run the place. Inside, you'll find a homely atmosphere where coziness takes center stage.
They offer both "brekkie," their brunch, from the early morning when they open at 8:00 am, and bread and pastry sales throughout the day until 6:00 pm. The place is suitable for all ages and provides facilities for strollers as well as easy access for wheelchair users.
When you step inside the spacious entrance, you'll be greeted by a display of filled cake counters and bread displays. The interior features colorful, homey decorations with vibrant wallpapers and the inviting aroma of freshly ground coffee.
You'll notice the impressive copper kettles, and the bakery's unique touch is using the good leftover products from beer production in their bread.
On Friday and Saturday evenings, the place transforms into "Hele Svineriet," an all-inclusive dining experience with a free bar.
The premises are also available for private events, meetings, and celebrations, accommodating 80-100 people. If you book the whole place, both Hr. Søgaard and Fru Søgaard, they can host gatherings of up to 200 people.
The beloved Sunday Brunch Buffet is back!
At Fru Søgaard, you can enjoy a sumptuous brunch buffet every Sunday, served during two seating times: 09:30-11:30 and 12:00-14:00. Additional information and bookings can be found here.
Fru Søgaard Svenstrup Bakery.
In addition to the eatery, Fru Søgaard also has a bread outlet, Fru Søgaard Svenstrup Bageri, and production facilities on Godthåbsvej in Svenstrup, where the two experienced bakers, who previously ran La Bonta for 19 years, work.
The Svenstrup location is more of a traditional bakery with production and sales of baked goods, while Fru Søgaard serves as a café, eatery, and even a restaurant when it hosts "Hele Svineriet," an all-inclusive dining experience with a free bar on weekends.