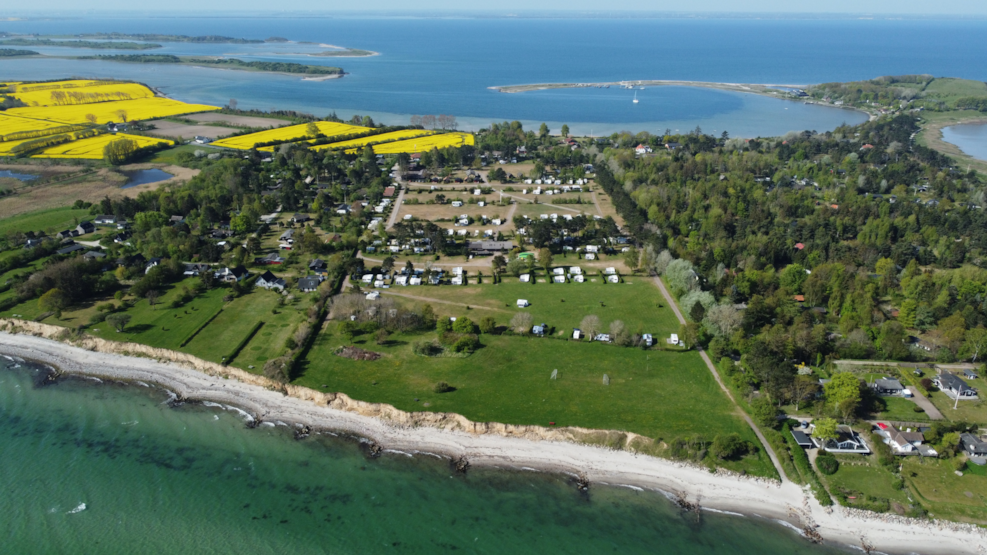 Fynshoved Camping
Scenic campsite at the top of Funen.
The camp site
Fynshoved Camping was built in 1962 on the peninsula, Hindsholm. The site is on 20 acres of land (11 hectares) with 230 places, arranged so that there are large open spaces between the rows and in addition we have 15 cabins. We have a brand new bathing bridge from 2023 and a nice beach with clean bathing water. Here is perfect for all outdoor activities and, for example, fantastic for SUP-boards, kayaking and kite- and wind-surfing. The area also offers wonderful hiking routes in scenic surroundings.
The nature
Fynshoved lies in a dry area, where the rainfall is 25% less than in the rest of the country, which gives a special vegetation. The long stretches of coast offer good opportunities for angling and fossil hunting. Here is an interesting natural area with hills, coves and small islands. We also have a rich bird life - among others the little tern, the green woodpecker and sea eagles. Here, there is also a good opportunity to experience e.g. deer, fallow deer, hares and pheasants up close. In the area there are bird sanctuaries and protected areas, which means unique nature experiences.
Activities
On the campsite there are two playgrounds, one with rabbits and birds, and a large playground with bouncy pads and a large climbing frame. In addition, there is a sports field for, among other things, football and volleyball. The campsite has two service buildings with solar heating. A well-stocked grocery store, delicious grill cafe, serving everything from home-made lobster burgers and fish platters to hot dogs and old-fashioned ice cream cones plus mini golf.
Opening hours
Fynshoved camping is open all year round for caravans and cabins.