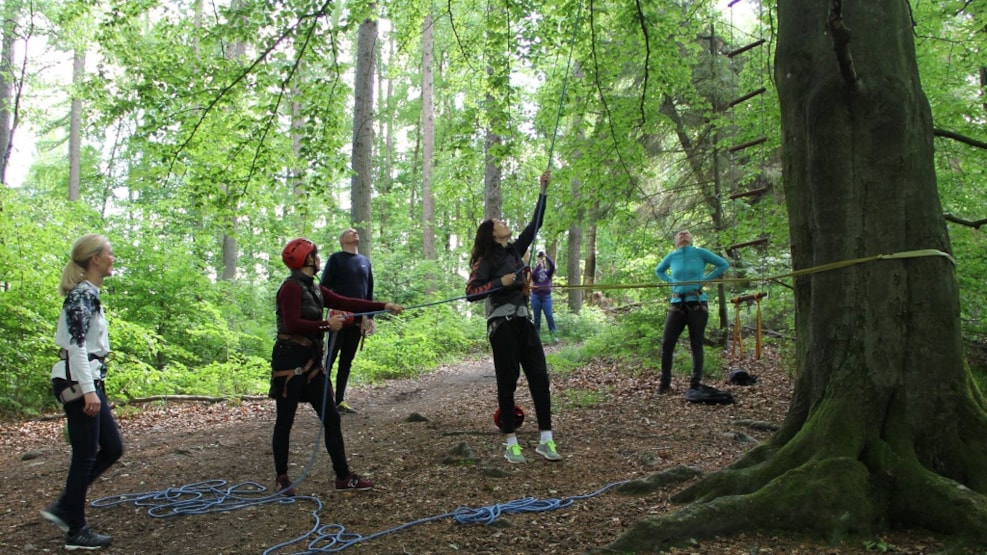 Get to the top and get a new perspective - experience the forest from the top
Tree climbing offers a rare opportunity to see the world from a different angle. Clear your thoughts amongst the tree tops and allow yourself to be awed and inspired by the view. This different way of experiencing the forest is for everyone. The level of difficulty will be adjusted according to your strength and ability so that everyone will get the most out of the experience. We will choose the trees that will be most suitable for you with varying levels of difficulty-up to 24 meters over the forest floor.
Climbing trees is a fun revitalizing way of exercising the whole body improving strength, balance and coordination. After thorough coaching and under the guidance of the skilled instructor, you will climb to the treetop and feel the wind in your hair and the gentle sway of the tree.
The sense of achievement that you feel when reaching the top of the tree, no matter the height or level of difficulty, is a personal triumph. Teamwork is an important element of tree climbing, as is trust. You will swap between climbing and being the safety partner for the person climbing.
This challenging outdoor activity provides a framework for personal development, trust and teamwork in an interaction with nature, always with adherence to the Climbing Associations rules and guidelines for tree climbing
Group size:
4-15 pers.
Prices from:
 4-8 pers. - 1 turn per person 1½ hours  DKK 1.200,
9-15 pers. – 1 turn per person 2-3 hours DKK 2.250,
4-8 pers. – More turns per person 2-3 hours DKK 2.200,
9-15 pers. – More turns per person 4-5 hours DKK 4.800