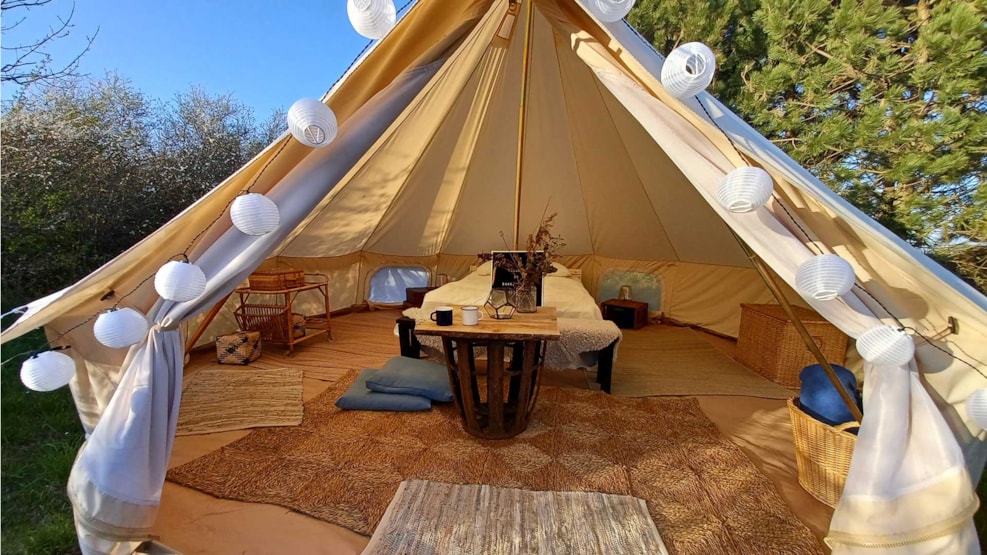 Glamping at Bakkegaarden
Glamping at Bakkegaarden
At Bakkegaarden you will find a unique glamping experience by our own lake and the fields surrounding it all. Here you can enjoy quiet, starry nights around your campfire, and wake up to birds twittering and a view of the lake.
You will be able to experience nature at close range while you relax and enjoy each other's company. We have made the perfect setting for you to have a lot of fantastic experiences together in nature, and at the same time sleep comfortably with everything taken care of. You will be one with nature and the animal life while you catch your fish that you can cook on your campfire. In the lake you can catch trout and perch.
Included in the price are:
a delicious breakfast with goodies from our vegetable garden,
fire wood,
access to outdoor kitchen with cutlery, kitchen utensils and basics for cooking,
toilet and camp shower
All tents come with a queen size bed, and an extra mattress is available, if necessary.
On arrival you park in our enclosed yard, where we will welcome you. Here you will receive a pushcart to use for your luggage. It is about a 450-meter stroll to the lake, and getting there you will feel peace and serenity growing in you.
We can also offer a guesthouse, and a small self-service booth where you can buy local foods and homemade delicacies. It is also possible to buy meals and tasting boxes with delicious greens and fruits from our garden.   
Glamping is 1600 DKK/215 EUR pr night, for two people, and includes homemade breakfast and a box of firewood.
Addons
Extra mattress/bed: 250 DKK/34 EUR (children under 2 years of age are free when sleeping with parents)
Fishing: 150 DKK/20 EUR pr person (75 DKK/10 EUR pr child up to 12 years of age)
Fishing gear, rental: 65 DKK/9 EUR pr person
Tasting box: 150 DKK/20 EUR. Box filled with fruits and greens from Bakkegaarden's garden, and homemade jam and honey.
Campfire food: 195 DKK/26 EUR pr person (95 DKK/13 EUR for children up to 12 years of age). Includes marinated meat, sausages, different sides as well as greens from our garden. The food is ready for cooking, all you need to do is choose whether to prepare it in the kitchen, the campfire or the barbeque.
Our guesthouse has a kitchen, bathroom with towels, and sleeps three people. All will be ready for you on arrival. It is possible to enjoy the area around the lake, as well as fishing in the lake.
Guesthouse is 700 DKK/95 EUR pr night, for two people.
Extra amenities to be purchased:
Breakfast: 125 DKK/17 EUR pr. person (75 DKK for children up to 12 years of age)
Booking: 
Glamping hos Bakkegaarden - Camp Rådyret - Unique stays (owayy.com)
Glamping hos Bakkegaarden - Camp Ræven - Unique stays (owayy.com)
Glamping hos Bakkegaarden - Camp Fasanen - Unique stays (owayy.com)