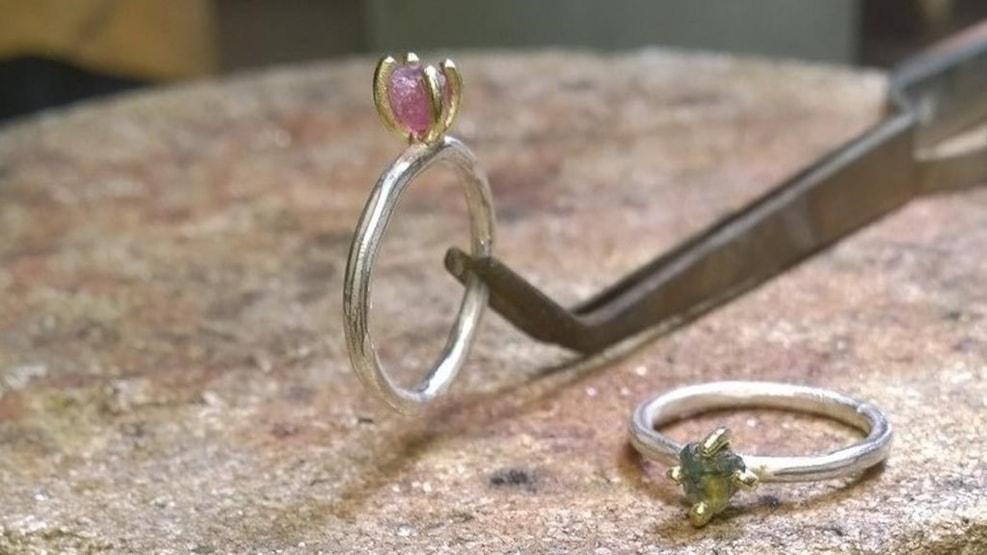 Goldsmith Sabine Majus
Goldsmith Sabine Majus creates both jewellery and sculptures
Great love for the craft
Sabine Majus trained both as a joiner and a goldsmith. She loves craftwork and the challenge of using her skills as a craftswoman in new and different ways, especially when using using new combinations of materials.
Fascinated by the possibilities offered by different materials
Sabine enjoys working with contrasts, especially when using different materials. She may use gold and precious gems together with beach stones and driftwood. This also underplays the purely material value of her jewellery, it is more important to her that her jewellery has a soul.
For a number of years now, her favourite technique has been to use enamel on silver and copper. By using enamel she can draw, paint and experiment with completely new techniques and compositions.
Her primary source of inspiration is nature, but occasionally she may find inspiration in an object used in daily life.
The H.C. Ørsted butterfly
Sabine is the artist behind the statuette "Butterfly" created from enamelled silver, which is presented annually to the winner of the H.C. Ørsted Prize.
The statuette is given to a researcher who has been particularly good at presenting his scientific research to the public. The beautiful butterfly design changes in character every year, so it reflects the personality of the awardee and their field of research.
Biography
Sabine Majus was born in Kiel in 1956. Originally she trained in Germany as a joiner but later studied to become a goldsmith. She later moved to Langeland where she has worked from her own jewellery workshop for more than 30 years. Sabine has exhibited in Denmark, England and Germany and has received numerous awards for her work.
If you would like to see more…
You can visit Sabine in her workshop and boutique 'Sommerfuglen' (the Butterfly) at Sidsel Bagers Gade.
You can also visit her work Legend Tower at Søstenen near Klæsø.