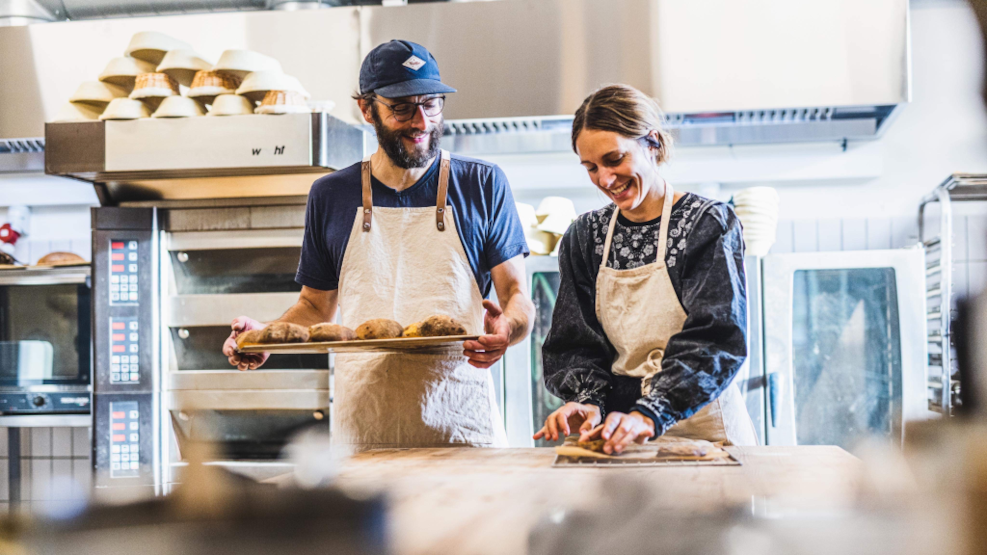 GROFT
This exciting organic bakery with a deli and specialty store is found in the old dairy building in Saksild. Come in and try their delicious sourdough bread with home churned butter, one of the many tempting cakes, or maybe a sandwich to go.
Organic bread and specialties in Saksild
In the old dairy in Saksild, close to the popular Saksild Beach, the new residents Torben and Stine have opened their store with a bakery and deli. The building has maintained its original, and rustic expression, which perfectly goes hand in hand with GROFT's mindset of upholding the old food traditions and fine craftsmanship. At the same time that GROFT aims to uphold traditions, the store has a modern feel with an up-to-date selection of bread , delicacies, and specialties with a focus on ecology, local, natural resources, and a care for the environment.
Bread that makes your taste buds dance
GROFT's homemade assortment consists of well-tasting bread, buns, and rye bread made from sourdough, focaccia, crisp croissants, and mouthwatering cakes.
At GROFT's website you can see a selection of their bread and cakes and place an order so it is ready for you when you arrive at the bakery (In Danish).
Tapas and sandwiches to-go
GROFT also offers freshly made sandwiches and paninis that are easy to bring to the beach, the holiday home or wherever you are going.
In the deli you will find home stirred chicken salad, pâté, pesto/hummus/mayo of the season, and sometimes also homemade juice. The idea is to make it easy for you to put together a delicious tapas menu from the delicacies and the homemade bread.
As a minimum all products and the bread are organic. As much as possible is made from scratch, and all ingredients and products are carefully selected.
Exciting products galore
GROFT is much more than bread and the store has a varied selection of products. Refrigerated goods include a small selection of cheeses, beer, wine, kombucha, cordial, and water.
The assortment of specialties and other interesting products includes organic flour, grains, dried legume, quality tinned fish, socially responsible honey, beeswax candles, tea towels, and luxury chocolate.  All products are carefully selected with a focus on quality, craftsmanship, and the environment.
About Saksild
Saksild is a small village east of Odder. It is famous for its beach which is probably the best bathing beach at the Danish east coast. The beach is located about one kilometre from GROFT. Saksild has a large holiday home area, stores, eateries, ice-cream parlours, two miniature golf courses, and a chance to rent equipment for water sports activities.
You can read more about Saksild and find inspiration for your visit on this page.