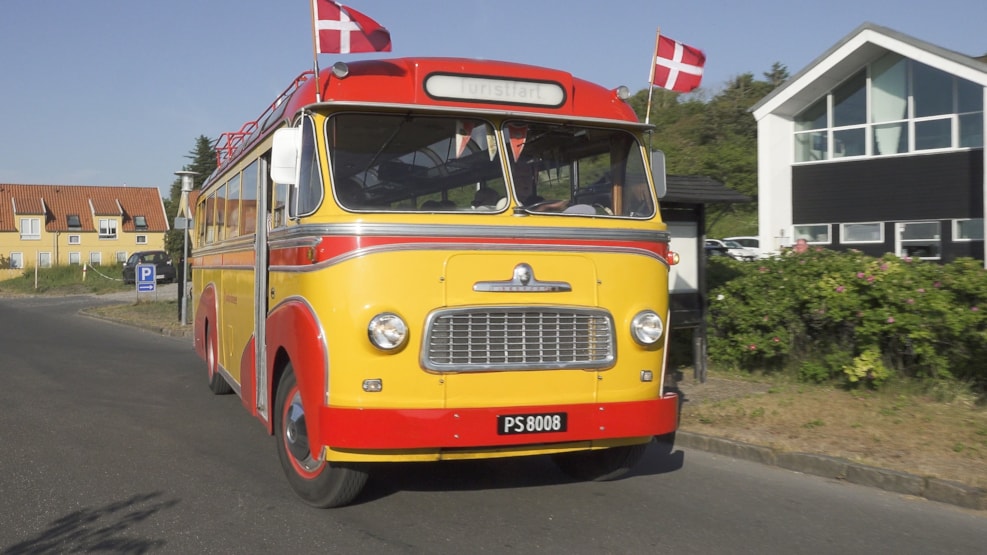 Guided bus tours with the Limfjord Museum
Join the Limfjord Museum's vintage bus on a trip through the Limfjord area and experience history inside and outside the bus.
During the summer, there is an opportunity to join a guided tour in the Limfjord Museum's vintage bus. Get a family-friendly experience and explore the Limfjord region in an entirely new way as the museum's volunteers share their exciting stories.
In the 1954 vintage bus, you'll explore the waters, landscapes, and culture of the area around Limfjorden. An experience that both adults and children will enjoy.
The bus itself has a long and fascinating history, and today it's the only one of its kind in Denmark. The bus has, among other things, been used as a backup bus for a school bus driver in Hjørring and later was sold to Den Rejsende Højskole, which traveled to the Far East with it.
There's also an opportunity to join some of Limfjord Museum's historical special tours, with themes such as the Limfjord during World War II or the Vikings' Limfjord and much more. Read more on their website.
Practical information
The museum bus operates two weekly tours during the summer vacation, on Thursdays at 19:00 and Sundays at 14:00. The tour takes about two and a half hours and departs from Fischersgade 89, 9670 Løgstør.
The bus can accommodate 36 passengers, so it's recommended to book well in advance. This can be done by calling the Limfjord Museum at +45 98 67 18 05 or by booking online.
The tour itself costs DKK 150 per person for both children and adults, plus a booking fee. On the day of the tour, you'll receive a membership card worth DKK 140. The card grants you free admission to the Limfjord Museum for the entire year.
Limfjord Museum's Activities
The bus tour can be combined with a free visit to the Limfjord Museum, where you can see exciting exhibitions about life in, around, and on the fjord. In Frederiks VII's Canal at the museum, you can experience some of the historical clinker-built boats or take a guided boat tour.