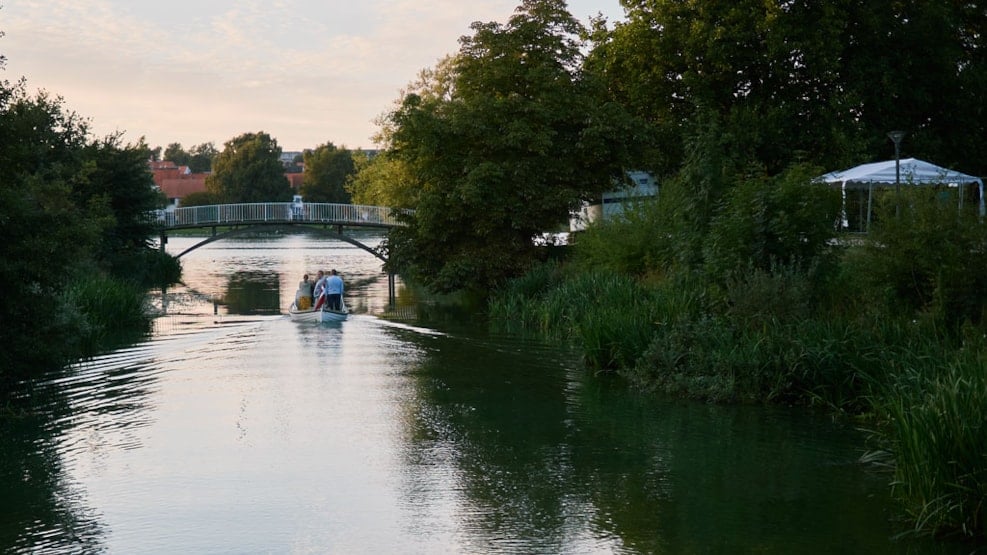 Haderslev Dampark
In the heart of Haderslev you find Haderslev Dampark, which was established in 1958. In the park you find beautiful garden beds, a rose garden and a herb garden. As a visitor you are allowed to take some of the herbs for personal use.
The old monastery cemetery with a number of preserved burial sites is located in the southeast corner of the park. In the cemetery you also find memorials for the fallen soldiers of World War 1. In the park you can also find 3 playgrounds and you can take a trip on the water with one of the pedal boats that you rent in the kiosk by the Inner-Dam.
In the northwest end of the park you find the old Haderslev Church, also know as St. Severin Church.
In addition to the beautiful flower beds you will also meet a number of sculptures and memorials during your walk through the Dampark.
Carved Boulders by the artist Ole Find.
Statue of the grocer Peter Hiort Lorenzen (in the garden of Hotel Norden).
Female figure with a jar on her head "Danaiden" by Johannes B. Bjerg.
Sundial made of granite from Bornholm by Eywin Langkilde.
Flying Sail made by Helge Holmskov.
The statue "to ynglinge" made by J. Gudmundsen-Holmgreen. 
Memorial for the lake disaster. The decorations, made in Halmstad granite, is made by the stone mason Truels Kelbøll.
Memorial for the Danish-minded soldiers lost in world War 1.