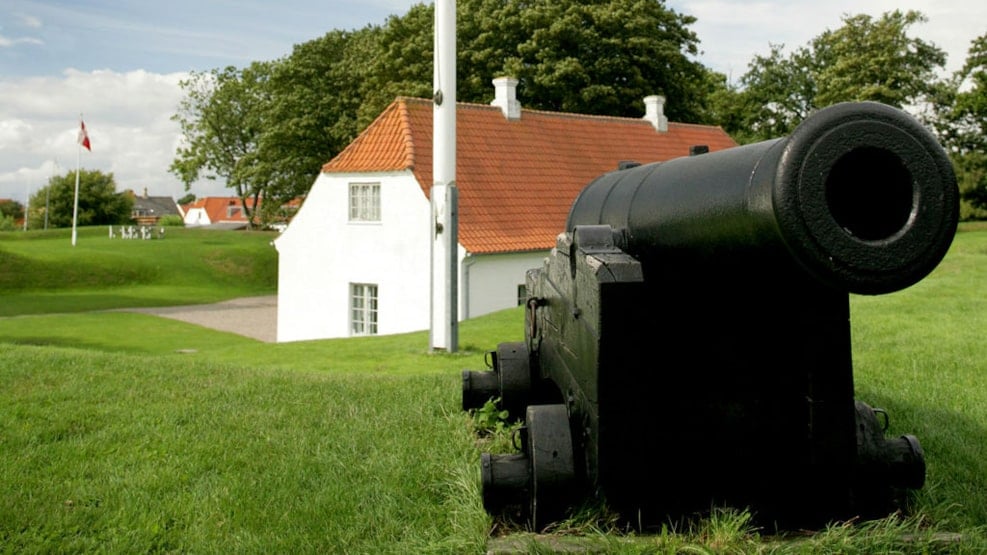 Hals Skanse
Denmark entered the Thirty Years' War in 1625, and in 1626, the King commanded that a redoubt must be constructed near the mouth of Limfjorden, because this was considered a liability to Denmark.
The redoubt was never finished, and when the war left Denmark in 1627, the redoubt was abandoned. The area surrounding Hals, however, proved a lively marketplace, and a new fort was constructed in 1652.
A new – functional – redoubt near Hals
The redoubt that was finished in 1654 was a 50 meter wide square surrounded by almost a five meter tall mound. This mound was then surrounded by a nine meter wide moat shaped like a star. This redoubt was shut down in 1848.
Views from Hals Redoubt
Today, Hals Skanse (Hals Redoubt) consists of the moat that was made over 300 years ago. Only the mounds, moat and the ravelin are left. The moats and ravelin's sharp, geometrical contours have been eroded by time, and the cannons currently placed on the mounds are lent to the redoubt by a museum.
At Hals Museum, the story and history of the redoubt and its influence over the region are told. From the mounds, you will find an amazin view of Hals and Limfjorden. The redoubt and surrounding area are listed as preserved by the Agency for Culture and Palaces.