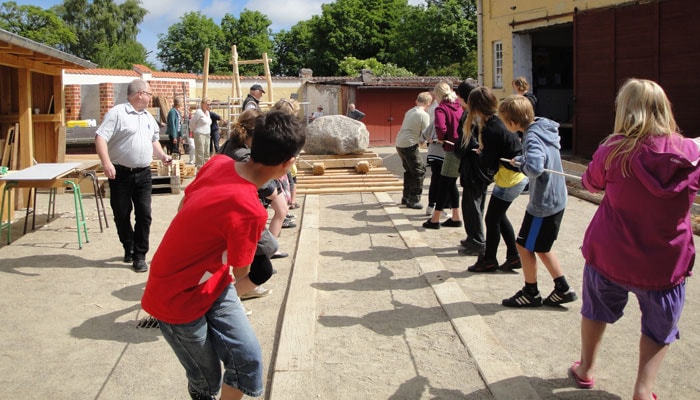 HistorieUniverset
Dig down in history in Samsø Museum's "HistorieUniverset" – a unique experience for children from the age of 8.
With its strategic location right in the middle of Denmark, Samsø is rich in history. Man has always left its mark on the landscape, but the tracks can sometimes be difficult to understand, and we want to do something about that in the HistorieUniverset (HistoryUniverse). Here  children can experience history in a whole new way that triggers all senses.
The Cave of Tales: In the dark we are led into the fantasy world through exciting stories that are based on historical events and places on and around Samsø. Here you can learn about a privateer captain, the girl from the Stone Age, the Medieval king and much more. And then it's time for the children to be active themselves, to get their hands on history.
Experiment Hall: The world, the story in the cave led us into, is to be explored through experimentation with techniques, designs and model representations. Can we build a model of Brundby Mill so that all parts fit together and the wings turn round and grinding stones can grind? Can we find out what is inside the ancient burial mounds? Or can we, like the Vikings build a canal through the sand, so it will not collapse? Then, finally: in the third stage, we need to try things in the real size.
Activity Yard: How was people in the Stone Age able to move a giant boulder? How do you hit a moving warship with a canon during the war with England? What was it like to hunt a big killer whale from a dugout boat?
Amulets: After a successful experiment, we make an amulet: a pilgrim cross or a Thor's hammer in tin or maybe a piece of bone or amber.
There are nine different themes, each with its own narrative, experiment, activity in the yard and amulet;
Hunters of the Stone Age
Barrow Builders
Mound Builders
Canal Builders
Church Builders
Stronghold Builders
Mural Painters
Entrenchment Builders
Mill Builders
A cycle lasts approx. 1 ½ -2 hours.
All nine themes are parts of a whole story, that you yourself can go experience on the island.
In the booklet "Stifinder på Samsø" (in Danish only) are maps and facts about historical places.
HistorieUniverset is a part of Samsø Museum
Prices 2019
DKK 60,- for one theme
---
About Samsø Museum
Samsø Museum tell's about the relationship between man and nature, about society's cultural impact on nature for thousands of years. A traditional museum is bounded by walls and filled with things from the past. Samsø Museum is rather a common name for a variety of activities that get you to see and understand the connection between Samsø's landscape, culture and people of the past, present and future.
In the center of Tranebjerg in the old Dairy, visit the Welcome Centre – the heart of Samsø Museum. Here visitors get a cultural introduction to the island, information about Samsø Museum's many attractions, activities and events, and is inspired to seek out the story in the landscape.