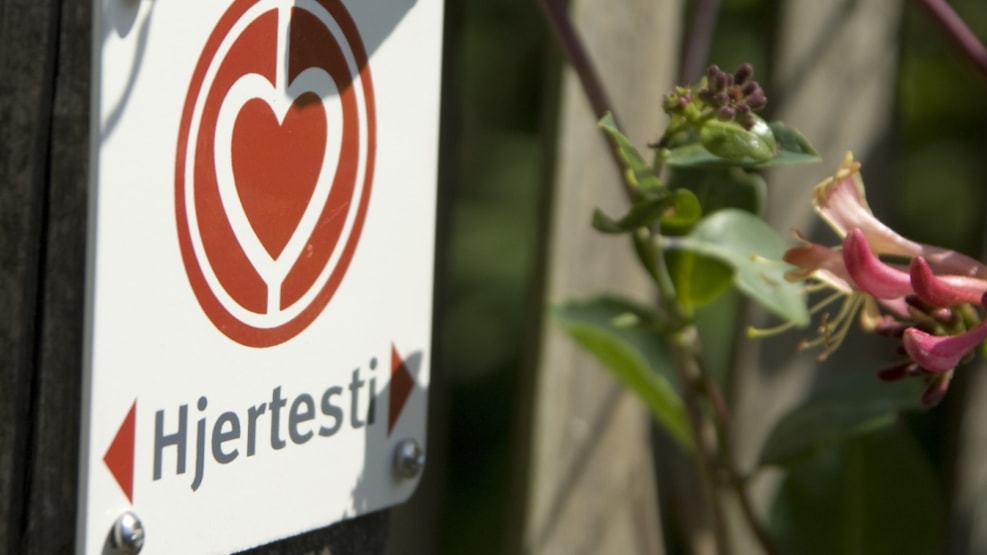 Hjertestier i Øland Skov
A Hjertesti is a marked exercise route, where along the route there are signs with the Heart Association's logo. Have fun on the trail!
Øland Skov is privately owned by Mette Glarborg, who happily makes her areas available to the public.
The Wood and the Paths
A "heart path" is a marked out exercise route, along which signs with the logo of "Hjerteforeningen" have been put up. Have a good time on the path.
Øland Skov is a private wood owned by Mette Glarborg, who is pleased to make her areas available for the public.
We are visitors in the wood, and we ask everyone, who walks in the wood, to respect the rules for traffic in privately owned woods including the fact that dogs must always be kept on a leash. Smoking is not allowed in the wood. In the wood you will meet machines and men, who maintain the wood, as well as people walking, running, biking or riding (riding permission is compulsory). When everyone behaves respecting others, a stay in the wood will always be a pleasure.
Before you enter the wood, you will always have to make sure that there is no hunting. Please pay attention to the hunting during the period the 1st October to the 31st January.
When a hunting takes place the wood will be closed to traffic, and signs are put up. Add to this, there will be a purch-hunting (typically morning and night) during the period the 16th May to the 15th July. During this period the wood is closed to traffic.
The Heart Paths
Orange route: 6.8 km
Red route: 4.8 km
Blue route: 3 km
Further heart paths in the Bay (Jammerbugt Kommune).
At present there are as many as 10 different heart paths in the Bay (Jammerbugt Kommune) covering from 05 km to 6.8 km, so everyone may join. You may find the additional routes on page see