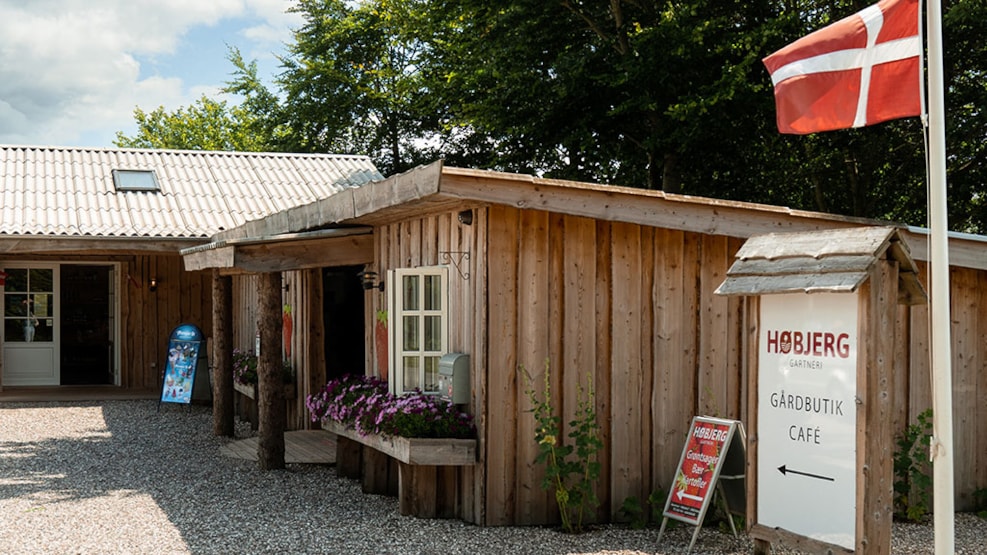 Høbjerg Gartneri, Gårdbutik & Café
Høbjerg Gartneri is a really nice place with its own horticulture, farm shop and cafe.
Here Høbjerg Gartneri produces exclusively their own fruit, vegetables, berries and potatoes, which are sold in the farm shop. They do not grow their products organically, but they do it with care and with great respect for the nature and the environment.
They also have Pick Even Strawberries in high season, approx. from Sankt Hans and then 3-4 weeks ahead of course depending on the weather.
Enjoy the lovely café 
In the cafe you can buy coffee, tea and various home baked goods every day. In weekends, holidays and school holidays also serve lunch.
In the farm shop they sell many different products both local but also imported goods. There is a wide selection of both organic and conventional foods. Høbjerg Gartneri makes some goods of their own products from the horticulture, including juices, jams, syrups, pesto and much more. The farm shop and cafe are open every day during the season from 10-17.
They also have a sale in Grenå on Strandgade 2, where they sell all their horticultural products, as well as a selection of farm goods. This shop is open every Tuesday to Sunday from 10-17, also from approx. May 1st to about October 1st.
See what others are sharing on Instagram