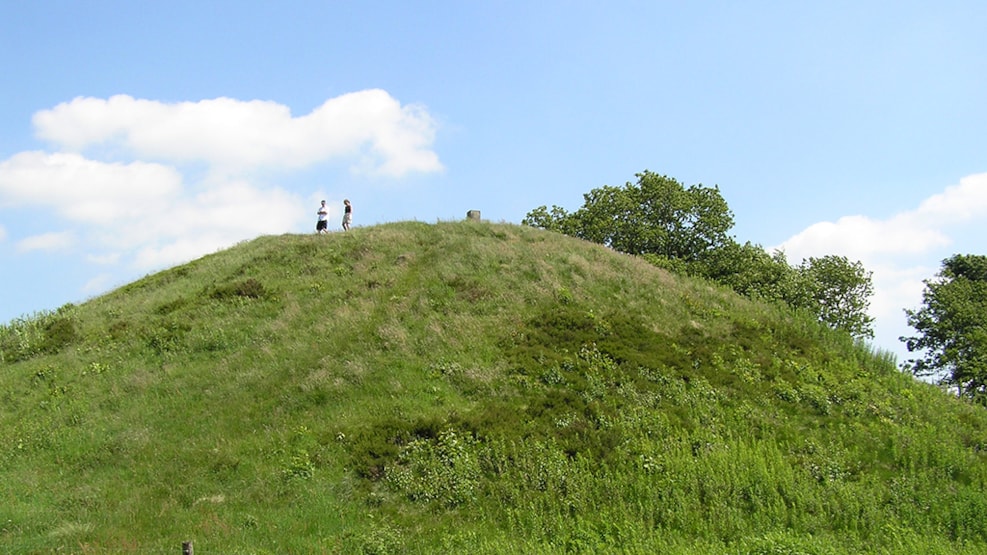 The Hohøj burial mound
Scandinavia's largest burial mound.
Would you like to feel the flutter of history's wings and at the same time experience a breathtaking view of Mariager Fjord and the beautiful landscape along the fjord? Then visit Hohøj just outside Mariager.
Hohøj is Scandinavia's largest burial mound – even larger than the famous royal mounds in Jelling – with a height of 12 m, a total elevation of 110 m above the water's surface, and a diameter of approximately 72 m. The mound is considered one of Jutland's most distinguished ancient monuments, not least due to its location on one of Jutland's highest points, where you can enjoy an expansive view of Mariager Fjord and the surrounding hills. On clear days, you can actually see nearly 75 km of the fascinating hilly landscape with fjords, forests, fields, heathlands – and no less than 28 churches.
The mound has not only had historical significance since its creation in the Bronze Age but also throughout history, where it has been used as a meeting point for public gatherings – and in fact, constitutional assemblies are still held at this beautiful location today.
After reaching the top of Hohøj and satisfying yourselves with the panoramic view, you can visit Det Røde Hus, where an exhibition panel tells the story of the site, its history, and the excavations carried out in and around Hohøj. And if you simply can't get enough of fascinating nature and history, we recommend taking a walk through Alstrup Krat just north of Hohøj – the forest is one of the closest approximations we have today to a landscape that has remained almost untouched since ancient times. There is a delightful hiking trail in the area that takes you past a number of traces from the settlements that have been near Mariager Fjord for several millennia – from other burial mounds to animal enclosures, livestock paths, a mill site, ancient hollow ways – and much more. And, of course, Alstrup Krat also offers a beautiful natural experience with its twisted old trees and hilly landscape.
If you're on vacation in Mariager, Hohøj can be used as a destination for a pleasant walking excursion – the mound is only 1.5 kilometers from Mariager's historic center. If you want to learn more about the mound before embarking on your excursion, you can start the trip with a visit to Mariager Museum, where you can see a portion of the actual burial mound and get a sense of its impressive height.
If you have a special interest in spectacular ancient monuments – or simply want to delve a little deeper into the exciting Danish history – we also recommend a visit to Kongehøjen between Hobro and Mariager, Lundshøj between Valsgård and Mariager Fjord – and, of course, the unique ring fortresses Fyrkat and Aggersborg.
See a map and find a description of the hiking trail "Hohøj and Alstrup Krat" here.