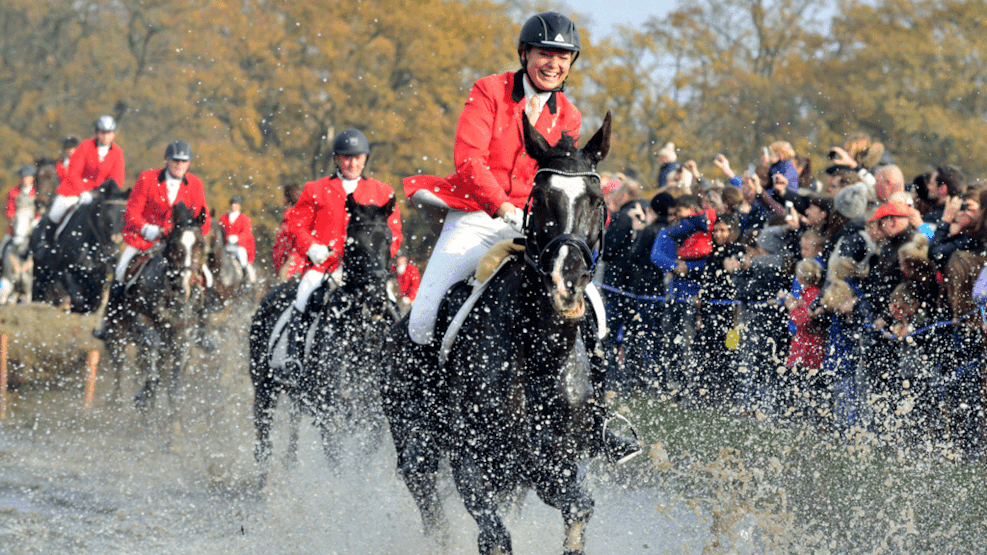 Hubertus Hunt
The Hubertus Hunt is an annual event held in the Deer Park in Klampenborg, north of Copenhagen. It usually attracts up to 40,000 spectators and 160 riders.
Since the foundation of the sports riding club in 1900, every first Sunday in November riders have gathered for the climax of the hunting season: The famous Hubertus Hunt in the Deer Park in Klampenborg. The event has become a traditional picnic in the beautiful forest for 40,000 spectators.
160 hunters on horseback participate in the Hubertus Hunt. For them, it is the end of the hunting season, which begins in early April, with hunts in the Deer Park, in forests and estates across the island of Zealand, as well as three hunts in Germany.
You can experience the riders in beautiful and dramatic situations, flying over hedges, through the air, deep landings and not least the crossing over the black pond, where one or more riders usually take a dip in the cold muddy water, much to the amusement of the crowd.
The route
The start is always by Peter Liep's House in the Deer Park, and from there the 13-kilometer wild chase goes through the woods. The fox tails (riders with fox tails) show the way. Then comes the Master (the one with the high hat), then the two Side Masters, whose job it is to keep pace and distance. And then the 160 riders.
There are a total of 35 obstacles, which must be overcome. Well inside the route, the riders take a break at the Hermitage Castle, so riders and horses can gather strength for the last part of the ride, which among other obstacles include the crossing of the pond.
At the end of the race, the winner of this year's Hubertus Hunt is given the Hubertus chain.