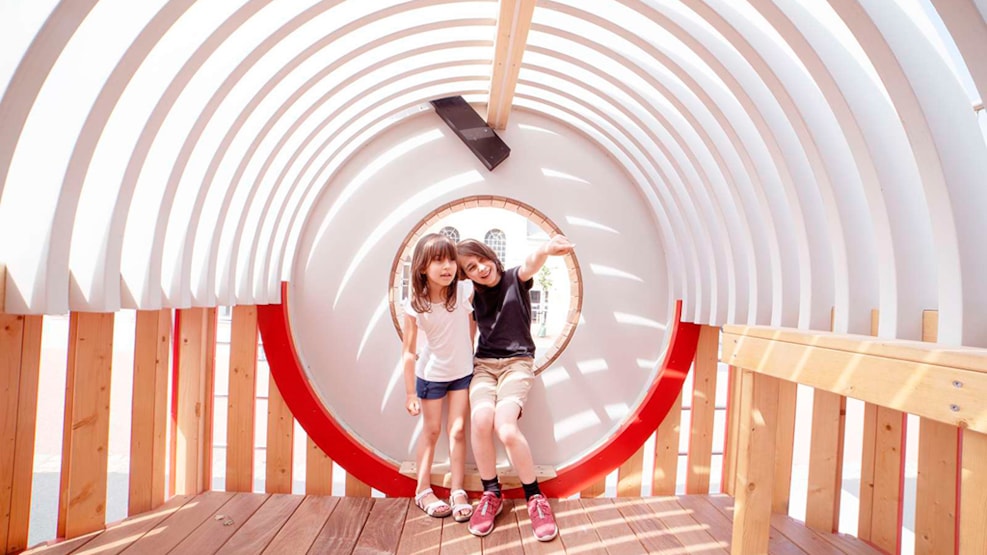 The Industrial Museum playground
At the Industrial Museum near the centre of Horsens, you can visit this new playground which is super fun and will give you the chance to learn about Horsens' exciting history as an industrial city.
Experience an exciting rush and the presence of history
Welcome to a great new playground in the heart of Horsens near the harbour and the shopping district. The playground consists of unique playground equipment inspired by the city's hindustrial history. The big play tower is in the shape of a gas tank that used to be on this lot where there once was a gas factory. The tower is big enough for the kids to go exploring, and from the top of the tower at an altitude of seven metres there is a long fun slide.
Another tower is shaped like a steam engine, and a seesaw is shaped like a local Nimbus motorcycle. You can also try the swings, the obstacle course and much more.
Everyone is welcome
You can visit the playground for free. You do not have to pay entrance to the Industrial Museum in order to have fun at the industrial playground. Next to the playground you can visit the Industrial Museum's café where you can buy cold drinks and ice-cream. Everobody are welcome in the café which is open within the museum's opening hours. 
Have even more fun with a museum visit
But why not have a look inside the museum now that you are here? In the museum exhibitions you can learn more about Horsens' and Denmark's industrial history. Compete at the assembly line and see who is the fastest factory worker. Or take a look inside the children's moped workshop, where the kids can try to assemble a Puch Maxi engine. Have an exciting glimpse into old times in the old worker's homes from different decades, visit the old stores, or learn more about the Danish schools through time. At the museum, children can learn about what life was like when their parents and grandparents were young.
Anyone under the age of 18 can visit the museum for free.
Go for a treasure hunt in Horsens
On the Horsens Treasure Hunt you pass the playground while making your way around town. Go for a treasure hunt around Horsens and answer questions along the way. If you have all the correct answers, you will receive a medal as evidence of your accomplishment.