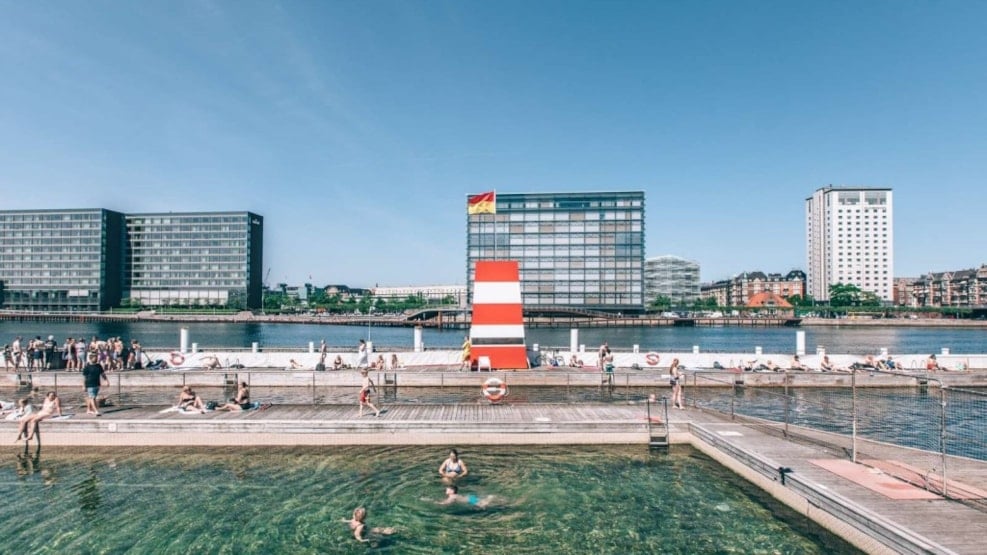 Islands Brygge Harbour Bath
With a harbour clean enough to swim in it, public harbour baths are something that just needed to happen. And they are very popular among both locals and visitors. 
One of the most visited is located at Islands Brygge, right across the bridge from the city centre. This spot has become iconic, and here you get open air swimming right in the centre of the city. Meet local families with children, beach boys and regular swimmers alike. 

On hot days, Copenhageners swim with the city's skyline in free view. During the week, many locals pass the pool for a quick dip on their way home from work. 

The quality of the water is checked daily and has to be approved by the authorities before swimmers are let in. There are five pools in all, two of which are specifically for children. The shallowest pool is 30 cm deep. The diving towers are one, three, and five metres high respectively.
During the winter period, you may catch a glimpse of local winter bathers.
There is a lawn in front of the pool where you find lots of room for sunbathing, picnics, ball games, etc.
Lifeguards overview the facilities from June 1st until August 31st between 10-18. 
Open from May first to march 31st. 
REMEMBER
Swimming in Copenhagen's harbour is only permitted within the harbour baths and established bathing zones.
Always respect the directions of the lifeguards and authorities at the harbour baths. In the extraordinary case of temporary closure due to unsatisfying water quality or other things, a red flag is raised, and swimming is prohibited.