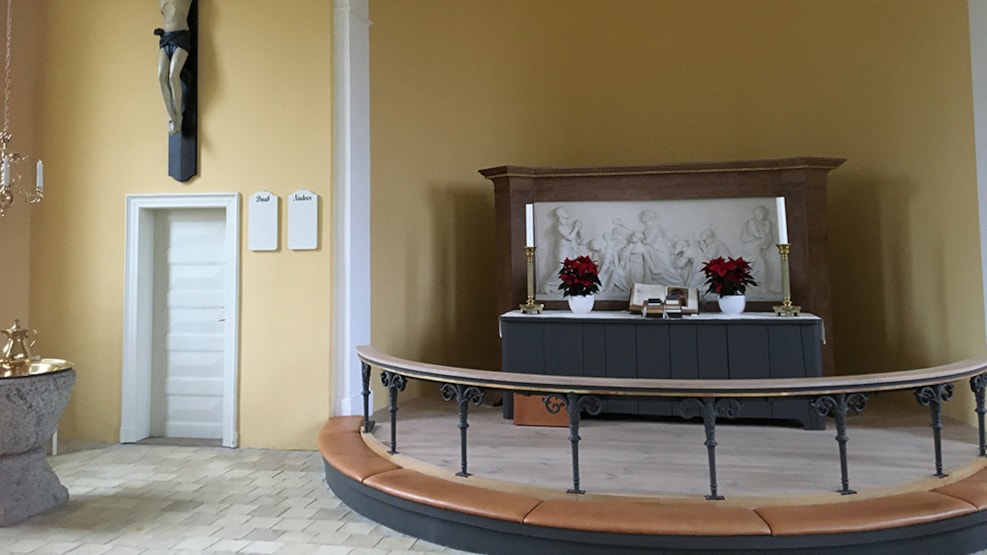 Jels Church
Jels Church is located right in the heart of Jels and near the lakes of the town. It was consecrated in 1854, replacing a smaller, somewhat dilapidated chapel of hewn granite. The location near the lake is probably due to the lake having been used for holy baptism in the 10th century, according to old sources.
The present church consists of a nave and tower and was designed by architect Laurits Albert Winstrup. The nave features a pulpit and apse. Granite stone from the old church has been reused in the base for the wall reaching up to the height of the windows. Two carved bas-reliefs heads can be seen on the eastern corner. On the western side there is a lion, and on the northern side there is an imprint of a woman's foot as a sign that the original church was dedicated to Saint Anna.
Most of the interiors of Jels Church date from the consecration of the church in 1854. The altarpiece consists of a bas-relief, which is a plaster cast of the Institution of the Lord's Supper, originally created by Danish sculptor Bertel Thorvaldsen for the Church of Our Lady in Copenhagen. Individual figures from the altarpiece in the old church hang on the walls, including a 1.35-meter figure of the Virgin Mary with the infant Jesus and a late Gothic crucifix. The baptismal font of granite was originally Romanesque in style but was readapted in 1854. Moreover, the altar silver, bible and 2 turned candlesticks with gold leaf are preserved from the old church.
The cemetery is surrounded by boulder embankments. Like so many other places in South Jutland there is a memorial to the fallen soldiers from the parish during WWI.
The old church apparently suffered considerable harm during the Dano-Swedish wars. The iron wall anchors had been removed, causing the entire west wall to collapse.