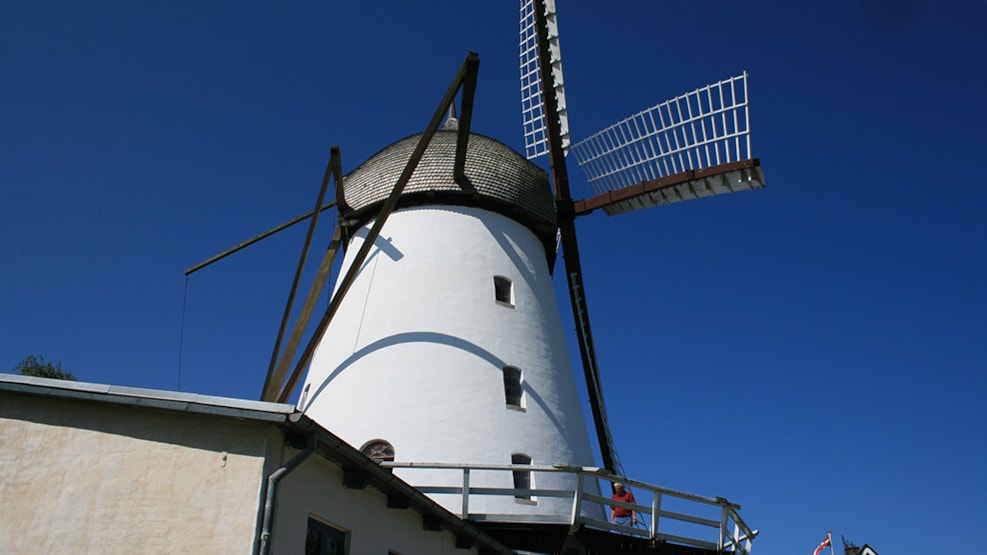 Jels Mill
Jels Mølle (Jels Mill) is a large Dutch-style smock windmill built in 1859. It was in use until 1959 to mill feed grain, flour and grist. Jels Mill is situated on a hilltop in Jels, allowing it to harness the wind. The mill was visible from afar, giving the miller at fine view.
Jels Mill is a Dutch type of mill where only the onion-shaped cap was turned so the sails could catch the wind. Previous styles of windmills required the whole building to turn. This leap in technology meant that the sails could be made longer, allowing the span on Jels Mill to reach 21 meters, which is quite long. The dodecagonal wooden surrounding deck was where the miller rigged the wings, hence the name: reefing stage. The mill building is today whitewashed as it was in olden days. Inside the Jels Mill there are four milling floors in addition to the cap. The original machinery, grinders, hoists and grain shoots have been preserved. The cap is clad with black woodchip board, which was renovated in 2009. The mill, the original machinery and the preserved outbuildings, consisting of a warehouse and the miller's home, offer a good impression of how, 150 years ago, Danish agriculture processed grain.
Jels Mill was constructed by Johan Møller, who received permission during an audience with King Frederik VII. In 1859, the mill had the same appearance as it has today with sails and a manual crank to swing the hat. Jels Mill was listed in 1959 and is today one of the few heritage mills left in Denmark. The heritage listing was renewed in 2014.
The mill is today beautifully maintained, and the "Association for the Preservation of Jels Mill" is responsible for the upkeep and restoration of both the mill and the associated warehouses and miller's home.
The mill is closed daily, but you can be lucky enough to experience the mill guild rigging the sails. This occurs once a week. Guided tours of the mill can be arranged with Tøger, +45 7455 2004 or Ole, +45 7455 5234.
You are welcome to spend time at the mill where there are tables and benches that allow you to enjoy the building and the historic atmosphere.
Distance
Hiking route The Ancient Road Hærvejen 0,2 km
Cycling route The Ancient Road Hærvejen 0,2 km