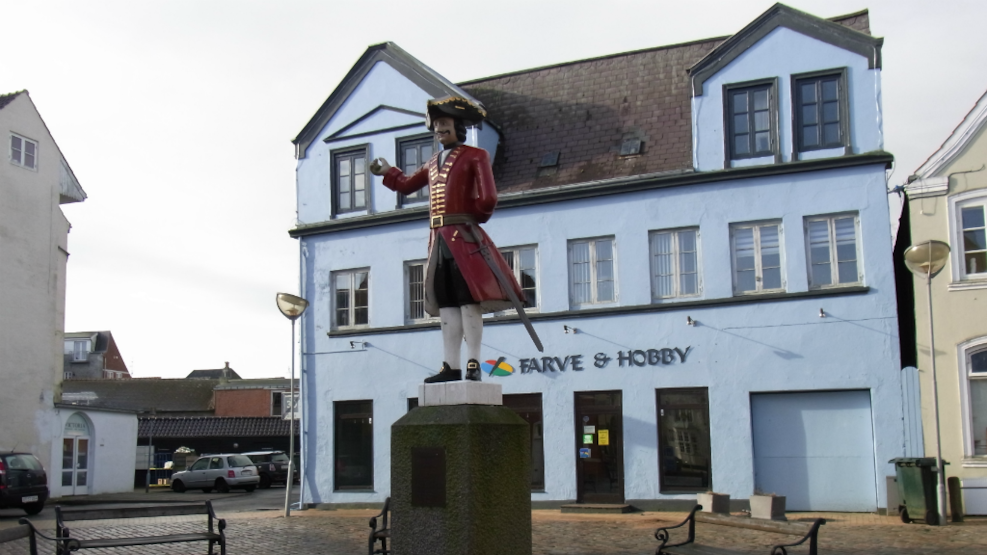 Kagmanden - Tønder
As late as in the 19th century the whipping post was of great importance in the urban life of many towns in Northern Europe. The post was placed on a brick-built rise, and chained to it the offenders were whipped by the executioner. Simultaneously the victim lost his civil rights and had to leave the municipality.
Minor violations of the law often led to public whippings. In 1813 a shoemaker's apprentice was caught in stealing apples. He was sentenced to public whipping and to be put in stocks. But on this occasion justice was tempered with mercy. The judgment was reversed. The apprentice was sentenced to three days' imprisonment and put on bread and water. So he was allowed to serve his apprenticeship. It turned out differently for a young girl who in 1865 had committed a minor theft.
She was whipped and put in stocks and was expelled from the municipality. As a reminder to observe the law a statue carved out of wood was often placed on the top of the whipping post, a so called 'whipping post - man'. Toender got its last 'whipping post -man' in 1699. 8 men and 6 horses dragged a log of oak up to town, and the wood-carver carved a soldier-like figure.It is unknown how many years the figure was placed in the market place.
Today the original figure - the only remaining whipping post figure in Denmark - is exhibited at Toender museum - a valuable souvenir of the legal system in the past.