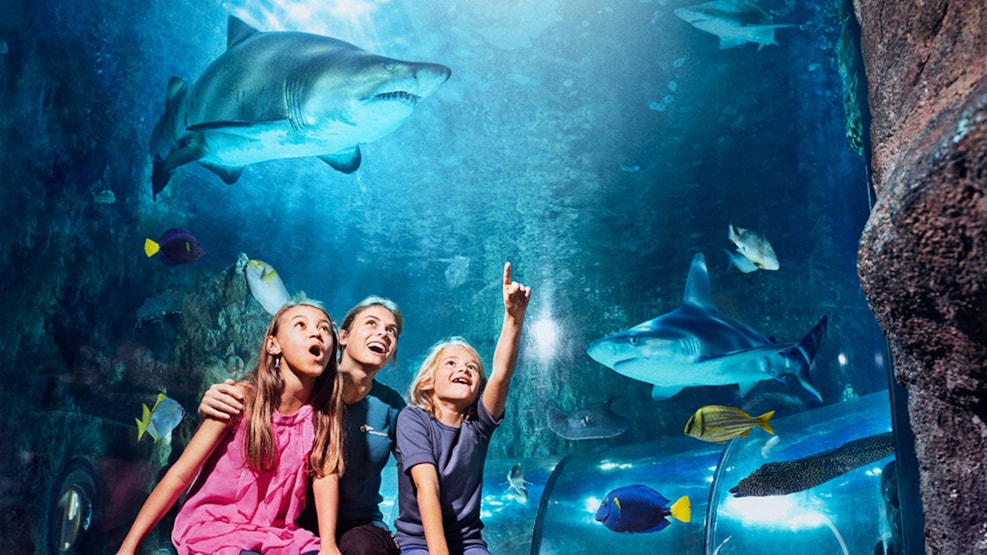 Kattegatcentret
Are you ready for a sea of experiences? Let yourself be surrounded by sharks, watch the seals romp around in their natural environment, paddle in a kayak on the deepest polar ocean and learn more about how you can take good care of the sea's wildlife.
Whether you prefer to be a spectator on land or to be thrown into the deep in a diving suit Kattegatcentret is the place to go. A sea of experiences that will stay with you forever awaits you!
Be smitten by the sea at the Kattegatcentre
The summer of 2022 is the grand opening of one of the only penguin facilities in Europe where you can get close enough to "catch" the world's fastest penguins. On the first floor, you'll absolutely be overwhelmed by the cold air, noise and smells of the penguins. Down below, you can relax and enjoy the spectacle as these festive marine animals unfurl their wings and glide like missiles through the water.
Your spine will tingle as the sharks swarm around you - and you'll be charmed by the clever seals as they slurp up herring and learn their ABCs. The Kattegatcentre offers an ocean of experiences that will last a lifetime!
200 species of marine animals
The Kattegatcentre have 200 amazing, colourful marine species - from the tiniest jellyfish to the huge sand tiger shark and all his companions. Every day, they feed and train these denizens of the deep in their tropical shark tank. You'll learn about these fascinating creatures as shark fins course through the water and a nasty set of pearly whites snap a flounder right out of the trainer's hand! Get so close your hair gets drenched with salt water or watch it all from the shark tunnel, where you can get within 6 cm of the beasts!
They also do daily feedings in the vast Oceanarium, where the jaw-some diver delivers thousands of scaly, fishy delicacies from the waters of Kattegat.
A sea of experiences
Your "small fry" can enjoy the indoor touch pools or just crawl and splash around outside among the big sea creatures at the thrilling water playground! You can also meet the Ocean Expert, who'll bring you closer to this wondrous sea life than you've ever gotten before.
At the Kattegatcentre, you don't just see things through a window. Their aquariums are open so you can feel the salt in your hair and take in all the smells and sounds, and the touch pools allow you to "pet" a shark, play hide-and-seek with the flatfish and hold hands with the starfish and crabs.
You can also dive with sharks, graduate from the Salt Water Academy as a Blue Agent - and, yes, even Zzzzleep with the sharks. They have tons of exciting special events just waiting for you!
See what others are sharing on Instagram