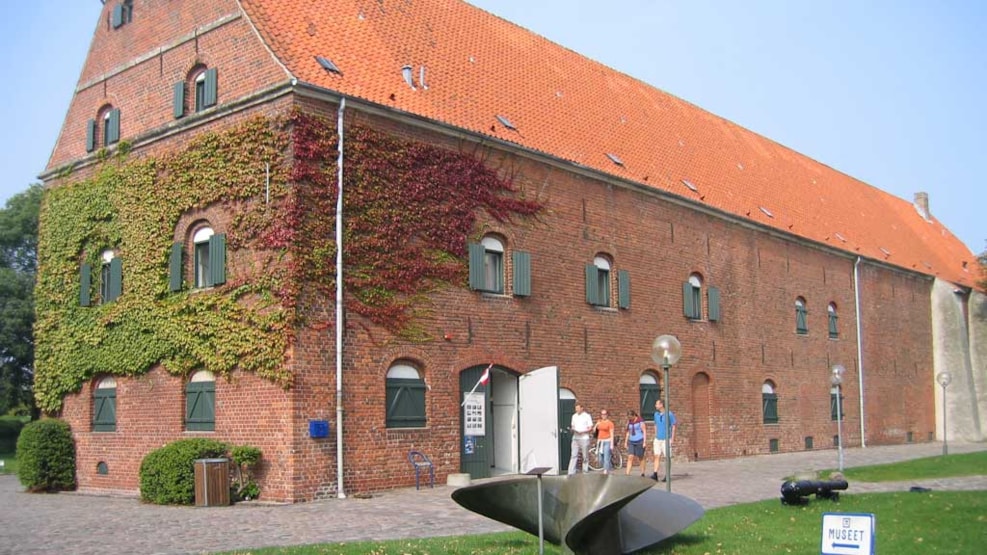 Korsør Coastal Battery, The Fortress
The first mention of 'Korsør' as the name of the town occurs in 1241, and it is from this period that the medieval tower dates. The tower - part of a complex of buildings that constituted Korsør Castle - was demolished in the early 1800´s.
The Great Magazine was constructed by order of Christian IV around 1610. On the first floor Korsør Town and Crossing Museum can be found. On the ground floor function as Korsør Town's exhibition and event centre, while the basement and top floors serve as storage for the Museum's extensive collections.
The Local History Archives for Korsør and Environs are located in the 'Commandants Residence' – a wood-faced, half-timbered building from the 1720´s - as well as the adjoining harbourmasters residence dating from 1884.
The red-painted half-timbered house across from the tower dates from 1826, and was originally built for the storage of gun carriages. The building has, over the years, served variously as a youth hostel and a museum. Today it is the meeting place of the Marine Society as well as housing their historic collection.
The ramparts surrounding the fortress area were constructed by order of the Swedish, during their occupation of Korsør from 1658-60.The fortress area bears the marks of many different historical periods, making it a site of unique historical interest.
Visit Korsør Coastal Battery, "The Fortress", and take an historical walking tour with the help of the Tourist Information Office's special brochure.