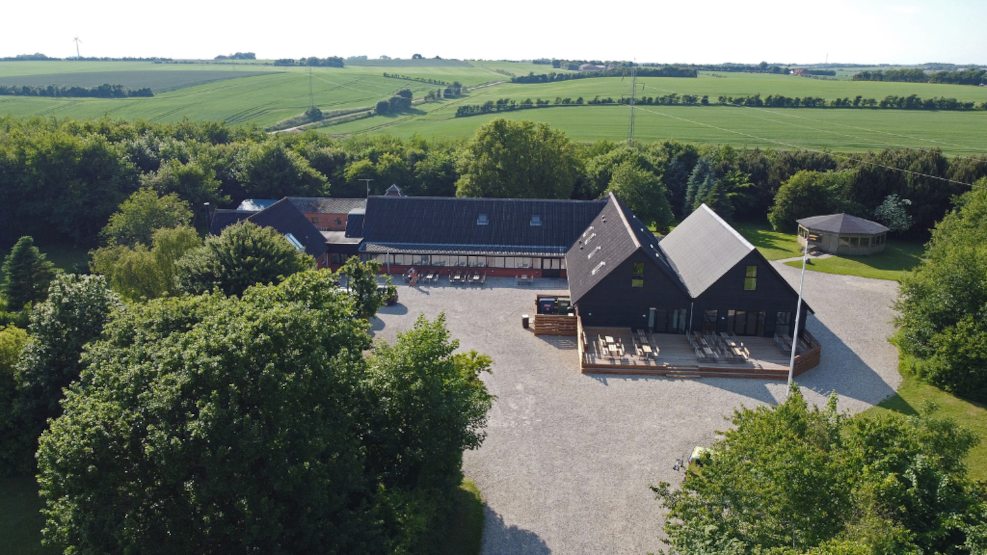 Langbjerggaard
Holiday Accommodation and Party Facilities in Skyum.
Langbjerggård Holiday Accommodation and Party Facilities are located in scenic surroundings close to the Limfjord, near Vildsund in Thy.
Langbjerggård has:
11 rooms with accommodation for 82 guests. Meeting room for 66 persons. Large industrial kitchen with tableware for 90 guests. Pavilion with seating for 50 dining guests and table tennis. Own forest with lake, meadow and a rich plant and wildlife. Log cabin, climbing frame, football field and beach-volleyball court. And only 1200 m to the Limfjord.
There are many possibilities for activities close to Langbjerggård. In the forest there is a newly made MTB track and tree climbing, and there are, among other things, the possibility for SUP'ing and kayaking on the water.
We would like to help our customers with getting the most out of their visit, by telling about the different possibilities locally, in Thy and on Mors. By using our personal knowledgeof the local area, we can point you in the right direction, regarding all the cultural and natural attractions.
Our location, which is 1 km from the Limfjord, is unique because of its location between sea and fjord. 30 minutes by car, and you can reach all the major attractions of Thy and Mors: Thy National Park (15km), Cold Hawaii - Klitmøller (29 km), The National Wind Turbine Test Center (32 km), Cold Hawaii Inland (2 km), Molermusset (Fossil Museum) (26 km), Jesperhus Holiday Park (24 km) and Hanklit (15 km).
Langbjerggård is attractive to a wide audience. We offer many different activities and experiences at Langbjerggård, and also in the whole area of Thy. We can put together a customised program at your request - we can help with booking of transport, communication with food suppliers, excursions and activity packages with indoor and outdoor offers including equipment and instructors. It is, of course, also possible to pick up the key to Langbjerggård and do exactly what you want, when you want, in peace and quiet.