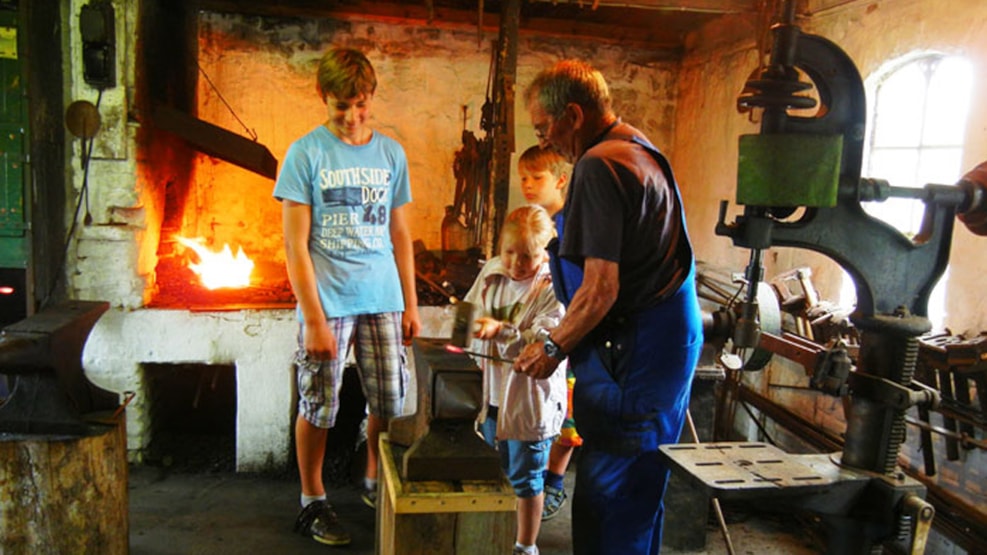 Langemark Smedje
From the earliest times, each village had its smithy. It was a place where people gathered and chatted while the blacksmith shoed a horse or a forged a tool.
The last blacksmith in Langemark, Ole Dam, inherited the smithy from his father in 1928. After approx. 60 years of service he gave it to the Samsø Museum. It was not so simple, because it turned out that the blacksmith only owned the building, not the land it stood on. The land belonged to "townsfolk".
Far back in history, perhaps since the village emerged, local peasants jointly owned the land to ensure that they would always have a blacksmith in their midst. Today a guild of volunteer blacksmiths works in the old smithy.
Besides the traditional blacksmith craft is also given occasional samples of forging in Viking and medieval times.
Prices:
Adults: DKK 25,-
Children: Free
---
About Samsø Museum
Samsø Museum tell's about the relationship between man and nature, about society's cultural impact on nature for thousands of years. A traditional museum is bounded by walls and filled with things from the past. Samsø Museum is rather a common name for a variety of activities that get you to see and understand the connection between Samsø's landscape, culture and people of the past, present and future.
In the center of Tranebjerg in the old Dairy, visit the Welcome Centre – the heart of Samsø Museum. Here visitors get a cultural introduction to the island, information about Samsø Museum's many attractions, activities and events, and is inspired to seek out the story in the landscape.