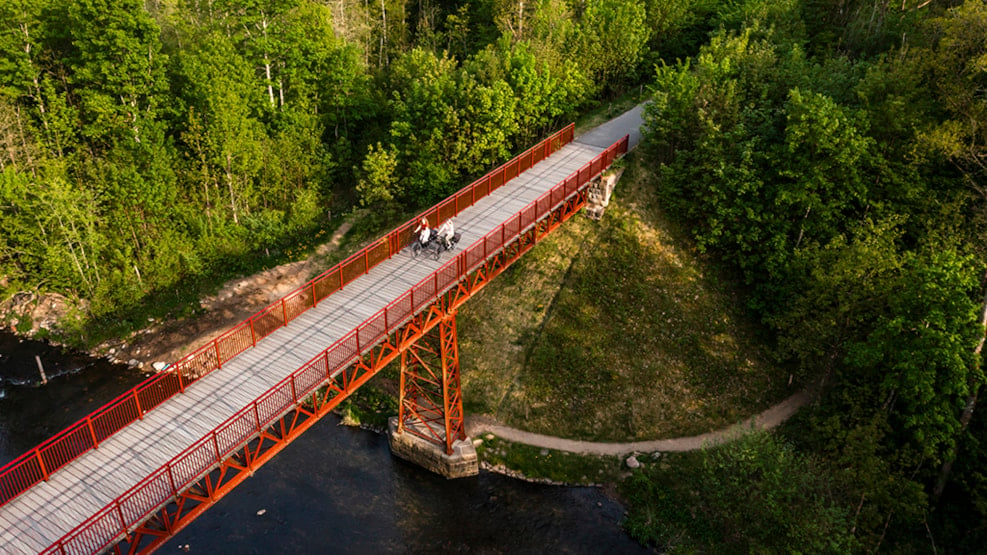 The Nature Path Horsens-Silkeborg
Experience beautiful nature and exciting cultural history on one of Denmark's best hiking- and bicycle routes. Walk or ride on your bike or horse on the historic railway path through the hilly area Bakkelandet and the Danish Lakelands between Horsens and Silkeborg.
Denmark's most beautiful railway
The Nature Path Horsens-Silkeborg is now the name of the old railway, Bryrupbanen. Back in the golden age of railroads, it was known as the most beautiful stretch in all of Denmark. The railway closed in 1968 and has since been tarmacked to the joy of nature lovers.
Today, the path is a popular hiking- and bicycle route passing through an area of impressive nature. The route follows the river Gudenå and crosses it several places. You pass through the area Bakkelandet north of Horsens which has many of the biggest hills in the country, the Danish Lakelands, deep forest and lakes.
The 61-kilometre-long path is perfectly suited for casual bicycle tours as you rarely go to roads with traffic. As an old railway, the route is also very flat.
Experience the railway history along the route
On the route between Horsens and Silkeborg there are several historic attractions focusing on the railroad. You pass by several old train stations, and it is easy to imagine the life which used to be at the station with passengers and railway workers slaving with loading goods and animals onto the train.
A five-kilometre-long stretch of railway track is still visible today. Here you can go for a ride on an old locomotive on the Vintage Railway Bryrup-Vrads.
The Uncovered Bridge
The biggest attraction en route is an old railway bridge. The Uncovered Bridge was the largest of its kind in Denmark when it was built and has a unique history. For 85 years it was hidden and (almost) forgotten in a dam until it was found, dug free and restored to its former glory. Today it is a big attraction with 100.000 visitors per year. At the bridge you can admire the lovely nature and enjoy a meal at the bank of the purling river Gudenå.
Take a break in cosy Brædstrup
If 61 kilometres is a little too much for you, then you might want to spend the night in the town Brædstrup. The cosy town is located on the halfway in Bakkelandet. There are options for accommodation, good eateries and exciting stores and speciality shops.
If you prefer sleeping under the blue sky, then there are several shelters and campsites on the route. They are all well-kept and can be used by anyone in need of a rest.
At the outdoor accommodation site Holmely, you can try sleeping in a tree top shelter, a glamping tent or a tipi.
Follow the route with Google Maps
Follow the Nature Path Horsens-Silkeborg on the Coastal Land digital map.