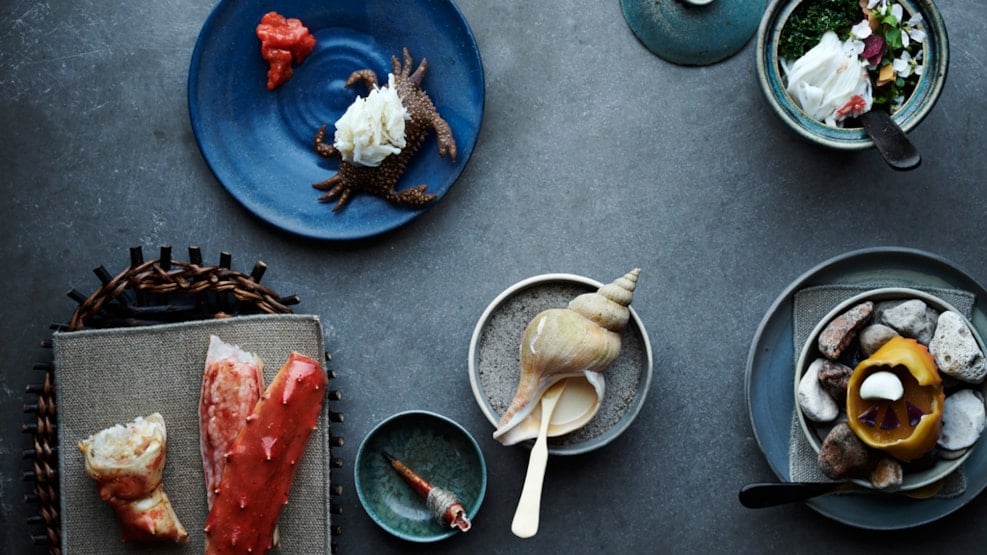 noma
noma – the story of the restaurant, that turned Denmark into a gastro-nation.
Back in 2003 Rene Redzepi opened the doors to what became a milestone for Danish gastronomy. The New Nordic wave hit the shores of Denmark and underlined that the nation was one to be reconned with when it came to gourmet experiences. Since then, noma has been awarded Best Restaurant in the world four times and has earned its three Michelin stars.
noma isn't just any Michelin stared restaurant. They've become the true frontrunners of the New Nordic Kitchen Manifesto – ensuring the development of it throughout the nation. They wish to revive the authentic use of local ingredients and cooking methods.
noma works without compromises, and they'll invite you in for a complete, gastronomical experience, while pushing the limits and expectations of what fine dining should be. Noma has left out the traditional white tablecloths and instead gone with a stunning, Scandinavian interior, revolving around their use of wood – giving it an informal and relaxed vibe. noma only has 40 seats, whereas four of them are reserved to students on a waitlist, giving them a chance to have the gourmet experience at a lower cost. Noma is one of the world's most popular restaurants, and you'll need to book months in advance to get a table.
noma has left its' mark on Copenhagen when it comes to the development of the amount of gourmet restaurants present. Former Noma-chefs has stuck around and build up their own take on fine dining around the city. Places like POPL, Hart Bakery and the Sanchez-family wouldn't be here if it wasn't for Noma. Not alone has noma climbed the gastronomy latter of Copenhagen, but they've also ensured a development of Copenhagen as a gastro city, which both foodies and top chefs will travel far to be a part of.
In 2018 noma 2.0 reopened after being closed for a year. They've changed location from Christianshavn to Christiania, moving into an old WWII-era arsenal called Søminedepotet. Christiania itself is a true free spirited, creative town within the city, and a well-known attraction with more than half a million visitors every year. noma is located within walking distance of both the historical and maritime neighborhood Christianshavn, and the more raw, urban area of Refshaleøen.
Together with architect Bjarne Ingels, and his company BIG, Noma has created an architectural wonder called "a garden village". An enclave of small buildings, greenhouses and raised beds makes out the beautiful exterior. Bjarne Ingels is a popular Danish architect, who's drawn places like the panda enclosure of Copenhagen Zoo, and the apartment complexes 8House and VM Mountain in Amager – an several wonders worldwide. At noma BIG has used materials as a way of binding the many compartments together. They've used a lot of glass, making it possible for the guests of noma to fell they're sitting in the middle of nature, able to see the changes of the seasons – and this is tapping right into the primary focus of noma.
noma divides their menu into three themes, showcasing three seasons and its best ingredients. From January to the beginning of the summer you'll have a menu based on Scandinavian shellfish. From then and until autumn it'll be vegetables in focus, followed by a menu of game- and forest elements lasting until next coming January. Besides the fact that this change of seasons will ensure continuingly high quality of the ingredients, it also underlines the Manifesto of New Nordic Kitchen, which Rene Redzepi has co-written. It was formed in 2004, and it describes how the Nordic kitchen should work both innovative and preserving. The focus lies on health and an ethical production philosophy, while still maintaining traditional ingredients and methods. A bonus to this way of working is a more sustainable handling of ingredients, when leaving out expensive intermediary with a heavy impact on the environment.