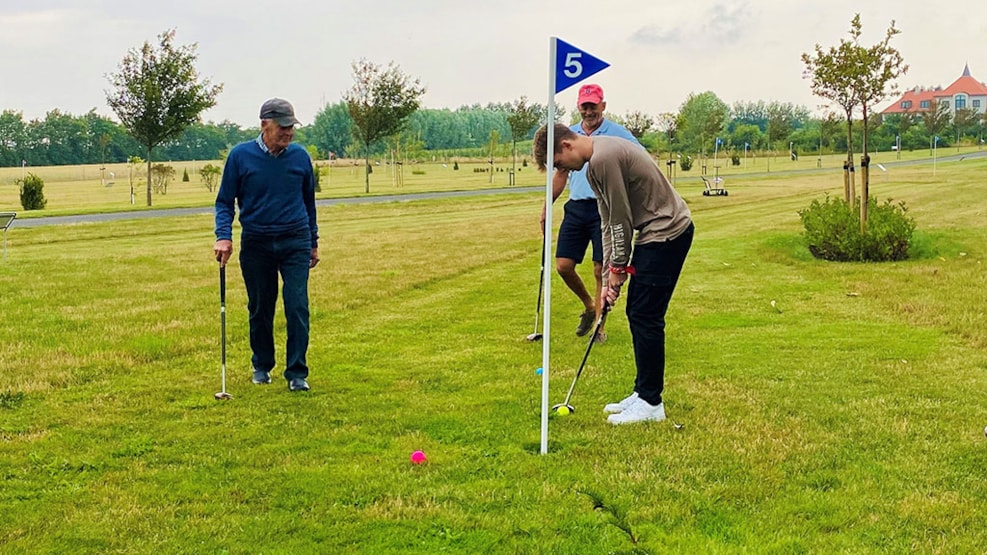 Nygårdsminde Park Golf
Nygårdsminde Vineyard now offers a beautifully located Park Golf course, which contains three loops with nine holes.
Combine your wine-tasting experience with Park Golf for the perfect company or group event!
Price: 300 DKK per person.
An event plan could look like this:
2:00 o'clock: Welcome at the golf course by the wine farmer Jan Lunde
2:10: Park golf instructions
2:20: A game of park golf
3:30: Guided tour in the wine fields with Jan Lunde
4:15: Wine tasting in the wine bar — 3 different wines
5:00: Thank you for today
What is Park Golf?
Park golf is like a combination between golf and minigolf, where you use the same golf club for all blows of the game. The course has 3 loops with 9 holes, and it takes 30-40 minutes to complete one loop. Everyone can participate, also children from the age of 10. Read more here
The golf course has a scoreboard, and the 10 best players of the season are invited to join DM in Park Golf.
Read more about Nygårdsminde Park Golf here