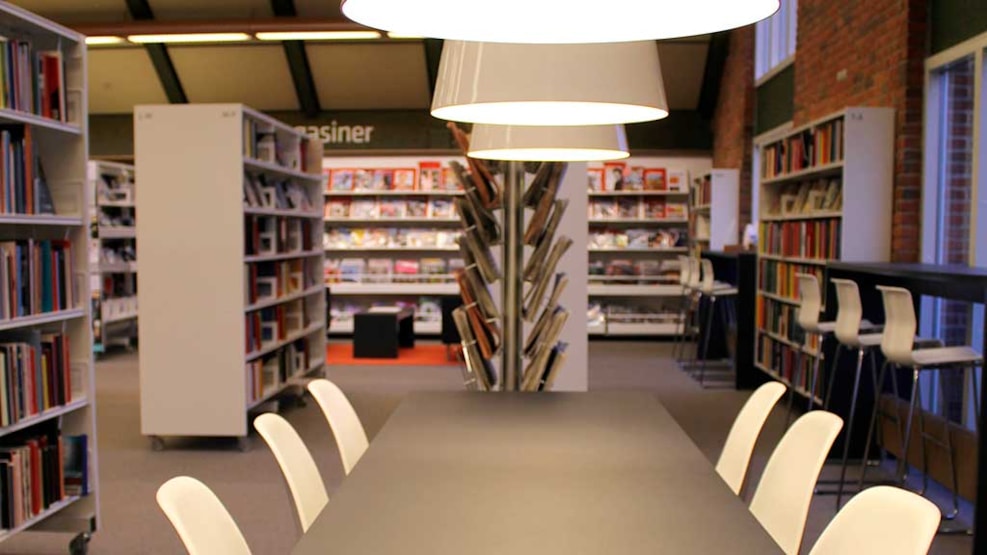 Odder Library
At Odder Library you can borrow books, movies and games, read a newspaper, use a computer, use a workstation, and much more. Everybody is welcome – local citizens as well as tourists.  
Much more than books
The library offers a big selection of reading material. All genres are covered – from fiction to non-fiction and children's books. Here, you can find a good crime novel by your favourite writer, an autobiography or explore local history. Most of the books are in Danish, but there are also books in English and German.
This is also the place where you can rent movies, games for Playstation, audiobooks, and music.
Just as importantly, the library is a place for immersion and relaxation. There are tables, chairs, and sofas and the option to read a magazine or a newspaper. There are computers for general use, and the possibility of using a copying machine for 2 DKK per page.
The digital library
Odder Library is accessible digitally from at home. At the Odder Library's website you get access to select online media where you can borrow ebooks, audio books, stream movies, entertainment for children or delve into history. In order to use the digital services, you must be a citizen in Odder Municipality.
Get an overview of accessible e materials on this page.
Opening hours and practical information
The library is open 5 am.-10 pm. every day, holidays included. The librarians are present 10 am.-5 pm. on workdays and 10 am-1 pm. on Saturdays. You can still get access to the library when staff is not at work if you are over 13 years old and registered as a user.
Tourists and foreign citizens can borrow materials as well. In this case, you must get a library card by reporting to reception.
The loan period is typically one month, although it might be shorter in some cases.
Events all year
Odder Library frequently and regularly organizes a diverse range of events. During school holidays there are often fun and creative for children where they get to make season specific decorations or go treasure hunting in the library. These events are free.
Adults can attend inspiring talks with writers or other speakers. Tickets are for sale at billet.kystlandet.dk.
You can see the full list of future events at Odder Library's website.