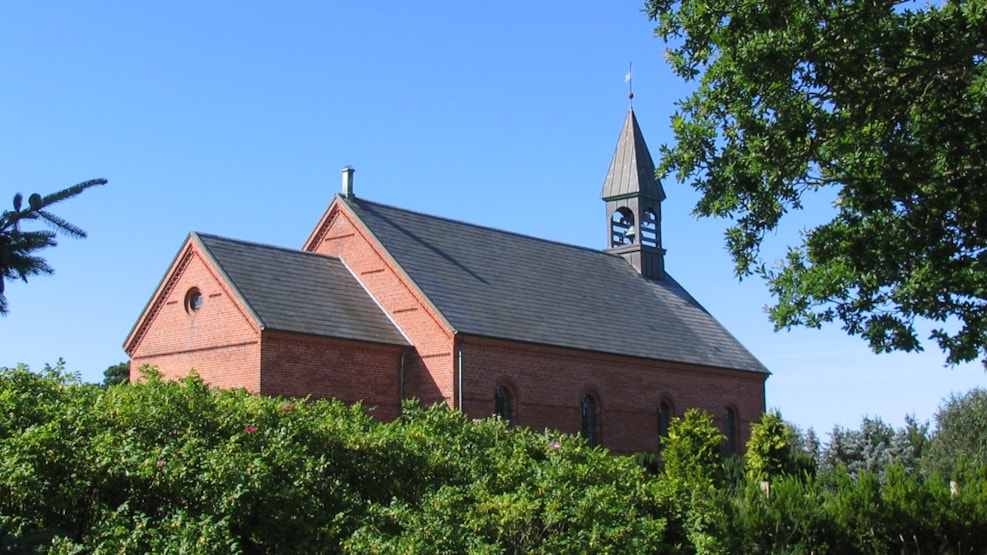 Oksby Church
Oksby Church is a new-Romanesque church in red stone surrounded by beautiful nature by Blåvand. The church was built in 1891, and was a replacement for Denmark's last thatched church. For this reason, there are therefore old artifacts from the thatched church, such as the nave "Briggen Marie-Daniel-Emilie" from 1829.
Oksby Church in Blåvand was built in 1891, and was built according to a drawing by architect F. Uldall. The church is kept in new- Romanesque style, and consists of choir and nave of red bricks covered with slate. The exterior of the church is decorated with horizontal saw changes between the windows and the gables as well as a profiled cornice. The church has no tower, but instead a roof rider of younger date.
Inside, the church is whitewashed and the beams are painted gray. Yellow clay tiles have been laid in the basket floor, but the aisle is covered with a coconut mat.
Oksby church and Mosevrå church were built to replace Denmark's last thatched church. The old church was located in an uninhabited flying sand terrain northwest of Bredmose.
From the old church come the late medieval altar figures carved in wood from as well as the church nave "Briggen Marie-Daniel-Emilie", which is a donation by Captain Clemen Nielsen. The same is true of the church's painting from about 1650, which portrays the twelve apostles. The painting was donated by beach warden Jens Knudsen Ibsen in 1892.
Other furnishings are for the most part from 1891. The pulpit was decorated in 1950 with 3 carvings depicting the entrance to Jerusalem, the prayer in the Garden of Gethsemane, the crucifixion and the resurrection.
Find more information on Oksby Church's website.