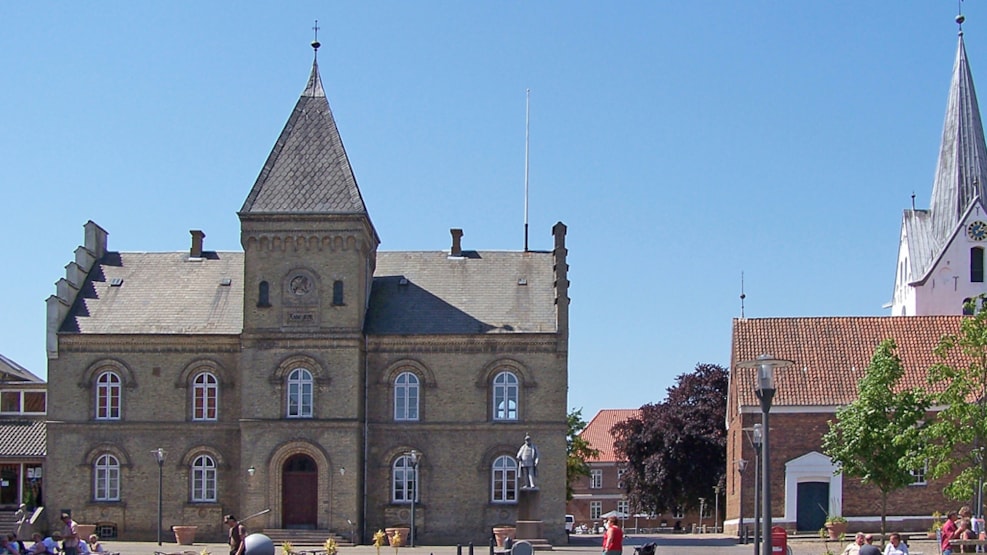 The old Hall of Varde
The old Hall of Varde was designed by L. A. Winstrup and was completed in 1872. It became a courthouse and detention center for Varde market town, but also housed the city's municipal administration. As a result of the development of society, the space conditions at the town hall became too cramped. Today, the town hall is used for weddings and representative purposes.
The old Hall of Varde was built in the beginning of December in 1872. The town hall was built as a town hall for Varde town as well as things - and jail for the market town, Øster - and Vester Horne manors and Skads manor.
The building is a beautiful building with the stately appearance, and was built in the building style of historicism by builder H.F. Hansen in Varde. The building itself was designed by architect and royal building inspector in Kolding, L.A. Winstrup, who designed a large number of town halls, hospitals and other public buildings, just as he was behind a large number of church restorations and other buildings.
From 1917, only the police authorities remained, and the municipal offices were housed in rented premises out in the city. In 1955 the police moved out, and twenty years later the city council had to admit that the town hall could no longer accommodate the administration
Exactly 100 years after its construction, Varde Municipality decided in 1972 that the old town hall had become too small. In 1976, therefore, the new administration building at Bytoften was taken into use, and the old town hall remained in use for representative purposes.